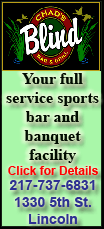 The scholarships are technically tuition waivers, so state universities wind up eating the cost of educating the people who are granted scholarships by legislators. The waivers sometimes go to the children of legislators' friends and political allies.

"It is past time for it to come to an end," Quinn said in his veto message.

Federal prosecutors are investigating scholarships granted by former legislator Robert Molaro. He awarded them to the children of a campaign donor, although it's not clear that they lived in his district, which was one of the requirements for receiving the scholarships.

Lawmakers have placed restrictions on the scholarships over the years but have rejected calls for ending the program.

Quinn's amendatory veto doesn't force lawmakers to take action, but it does create a high-profile decision for them to make. They can do nothing and let the bill die; they can override Quinn's changes and keep the scholarships; or they can accept the veto and end the scholarship program.

Quinn said in his veto message that lawmakers should voluntarily stop awarding scholarships until they are barred by law. He also noted that the state's Monetary Award Program lacks money to cover everyone who qualifies.

"Because of my firm belief in the power of education to uplift and expand opportunity, I believe we must offer the opportunities that scholarships create to those that are the most deserving," he said.

Copyright 2011 The Associated Press. All rights reserved. This material may not be published, broadcast, rewritten or redistributed.