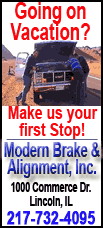 That isn't quite the case. Cunningham said she has always enjoyed retail and has a background in direct sales, and this looked like the opportunity to become an entrepreneur.

She said she always drove by the tanning salon, which had a sign that it was closing July 16, and she was intrigued by the possibility of buying it. On July 17, she called the former owner and a deal was made making Nancy the newest business owner in Lincoln.

She has a business degree from Eastern Illinois University, is married to Michael, and the couple have two grown sons, Andrew and Adam.

A Lincolnite who was born and raised in Minnesota, Nancy said she mulled calling her business the Lakes but didn't think area residents would relate to that name.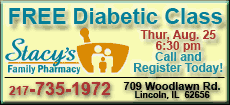 Instead she used the name Beaches and has painted a beach scene on the floor on the tanning bed side of her business.
Nancy said everything is a bit hectic as she still works on finishing the displays in her boutique area. She attributes the finished product to the help of a lot of friends and family coming in every day after work, helping her clean and paint for her Aug. 1 opening of the tanning salon.
Nancy said the boutique at her business will feature wares from local craftspeople. Jewelry, purses, crafts and woodworking items are among the merchandise she intends to sell.
The salon section has four beds and one standup bed for tanning.
She intends to offer a special promotion at her official grand opening on Aug. 20. Visitors will be able to purchase 100 minutes of tanning for $18 or three months of unlimited minutes for $99.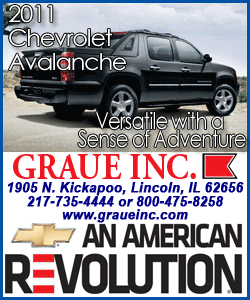 The boutique items also will all be out and priced to sell. And Lincoln author Anne Eldridge will be on hand to sign copies of her new book release.
Nancy is a high-energy person and she will have to be. She intends to run the business full time while still maintaining her regular full-time job. She is a consultant for the National Association of Child Care Resource and Referral Agencies. At that job she works 5 a.m. till 1 p.m. during the week. She then will come in and open the business from 2 to 8 p.m. and on Saturdays from 8 a.m. till 4 p.m. She said Beaches will be closed on Fridays and Sundays, "so I will have time to clean the house."
The business is at 531 Woodlawn Road, next to Chopsticks.
Nancy invites everyone to stop in and see her new store, especially on Saturday.
[By MIKE FAK]