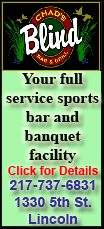 Mayor Keith Snyder said the FAQs this month include a few bonuses. John Lebegue of the building and safety office answered two questions instead of one, both pertaining to trash.

In addition, Snyder said he asked city engineer Mark Mathon to address a question regarding seal coating because it is an activity that is going on in the city right now.

Following are copies of the handouts provided by the city departments:

(Copy)

Building and Safety Office: John Lebegue

Topic: Code Enforcement - Trash

Question: Who should I contact to report the accumulation of trash and debris on a property?
Answer: It is considered a public nuisance to accumulate on any premises or upon any public street or alley any waste, refuse, trash, or garbage. To report the accumulation of waste or garbage on a property within the City, please contact the Building and Safety Department at (217) 732-6318 or at bso@cityoflincoln-il.gov. Upon receipt of a report of the accumulation of waste and garbage on a property the Building and Safety Office performs an inspection of the property and sends a letter to the owner of the property directing them to clear the property of the accumulated waste or garbage.
Question: Where is the proper location for the storage of waste containers and bags of garbage when not being placed out for collection?
Answer: It is unlawful to store any garbage or refuse containers in the front yard of any residential property located in the City. This restriction does not apply to garbage or refuse in a container placed in the front yard of residential property on the day of collection. When not placed out for collection, garbage and refuse containers must be stored to the side or rear of the home and not at the front of the home in the front yard. It is also recommended that all garbage be stored in waste containers with lids to prevent animals from ripping open the bags and scattering the garbage about the property.
___
City Engineer: Mark Mathon
Topic: Street Maintenance
Question: What is seal coating? Why does the City do this to the streets in the summer?
Answer: Seal coating (also known as chip sealing) is a maintenance procedure that is done to help preserve pavements. As both sealcoat and asphalt pavements age, cracks form in the surface. The cracks allow water to penetrate the road base, weakening the pavement. The oil that is applied to the surface seals these cracks, helping to waterproof and protect the pavement.
Typically, a sealcoat application may be reapplied every three to five years. The condition of the pavement dictates the frequency.
The sealcoating process begins with cleaning the pavement with a street sweeper to remove loose rock and debris. A Distributor is used to apply the bituminous material (oil) at a controlled rate. Following the Distributor is a self-propelled Chip Spreader. This piece of equipment takes rock from dump trucks and applies a uniform layer across the pavement. After this, a Pneumatic (rubber-tire) Roller is driven across the new sealcoat surface to help 'seat' the rock. The final step in the process is to remove excess rock with a street sweeper to help prevent accumulations of loose rock on the street.
___
City of Lincoln Fire Department: Chief Mark Miller
Topic: Medical response
Question: Why do fire trucks respond on EMS alarms (i.e., medical calls)?
Answer: Lincoln Fire Department is licensed through the State of Illinois Department of Public Health as a Basic Life Support agency. Lincoln Firefighters are the first responders that provide life saving actions such as CPR, defibrillation, and airway stabilization. They can also administer basic medications for chest pain, difficulty breathing, asthma, and anaphylactic shock. When 9-1-1 is called, Logan Dispatch sends a Lincoln Fire Unit and an advanced life support ambulance from the Logan County Paramedics Association. This tiered system utilizes both agencies to provide a rapid and effective method of caring for and treating persons with all types of medical emergencies.
Due to legal obligations and agreements through Logan Dispatch, Lincoln firefighters and fire trucks will continue to respond on EMS alarms and provide life saving services to our community.
These guidelines are established by the medical system we are associated with: SAMIC (the Springfield Area Mobile Intensive Care System). Our system's hospitals are Memorial Medical Center and St. John's Hospital in Springfield. SAMIC's Operational policy manual states that a non-transport agency (the Lincoln Fire Department) will be notified to provide initial response and support to the transport agency (the Logan County Paramedics Association).
___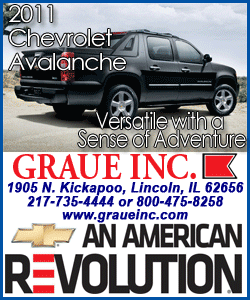 City of Lincoln Police Department: Chief Ken Greenslate
Topic: Identity Theft
Question: What Can I Do To Protect Myself Against Identity Theft?
Answer: There are a number of things you can do including taking these steps:
Shred financial documents and paperwork with personal information before you discard them.

Protect your Social Security number. Don't carry your Social Security card in your wallet or write your Social Security number on a check. Give the number out only if absolutely necessary or ask to use another identifier.

Don't give out personal information on the phone, through the mail, or over the Internet unless you know who you are dealing with. Avoid disclosing personal financial information when using public wireless connections.

Never click on links sent in unsolicited emails. Instead, type in a web address you know. Use firewalls, anti-spyware and anti-virus software to protect your home computer; keep them up-to-date. If you use peer-to-peer file sharing, check the settings to make sure you're not sharing other sensitive private files. Visit OnGuardOnline.gov for more information.

Do not use an obvious password like your birth date, your first initial and last name, your mother's maiden name, or the last four digits of your Social Security number.

Keep your personal information in a secure place at home, especially if you have roommates, if you employ outside help, or if you are having work done in your house.

Detect suspicious activity by routinely monitoring your financial accounts and billing statements.

Be alert to signs that require immediate attention: Bills that do not arrive as expected, unexpected credit cards or account statements, denials of credit for no apparent reason, calls or letters about purchases you did not make, or charges on your financial statements that you don't recognize.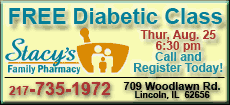 As soon as you suspect Identity Theft, defend against it by:
Placing a "Fraud Alert" on your credit reports and reviewing those reports carefully.

Contacting the security or fraud departments of each company where an account was opened or charged without your knowledge or approval.

File a police report with the Lincoln Police Department.

Report the theft to the Federal Trade Commission
For more information on Identity Theft, contact the Federal Trade Commission or the Illinois Attorney General's Office.
___
City of Lincoln Street and Alley, Forestry and Lighting: Tracy Jackson
Topic: Tree Trimming
Question: How do I get trees on City property or right-of-way trimmed or removed?
Answer: All you have to do is call the Street Department at 217-732-4655 and give them your address and let them know which tree needs attention (if you have more than one). The Street Superintendent will come out and look at the tree or trees in question. If the tree is deemed hazardous the tree will be dealt with immediately. If it is not a hazardous tree, the tree trimming crew will take care of it timely fashion. The City does have a tree trimming program that runs during the winter months.
For more information on the City ordinances regarding trees, please consult Title 8, Chapter 8 of the City Code (which can be found on the City's website: www.cityoflincoln-il.gov).
[LDN and copy of city FAQs]