Adams School kicked off the new school year Wednesday with the first open house in District 27. Parents and students toured their classrooms, met their teacher and visited with friends. The casual event allowed pre-K and kindergarten students to get acquainted with new surroundings before entering the classroom on the first day of school. District 27 will begin the new school year on Friday with early dismissal at 10:30 a.m. The first full day will be Aug. 22, with schools in the district dismissing at 2:30 p.m. the week of Aug. 22-26.

Pictures by Marla Blair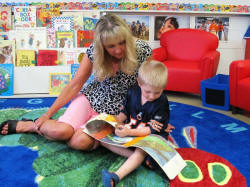 Pre-K teacher Deb Shirley reads a book with Taylor Bone while sitting on the "Hungry, Hungry Caterpillar" rug. Taylor's mother, Kirsten, came along to see the room, too. There are 40 students registered for pre-K at Adams -- 20 each in the morning and afternoon class.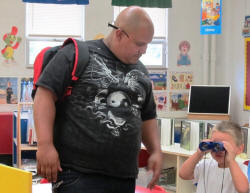 Dominic Robbins viewed the pre-K room with binoculars, and he checked out the neat stuff on the shelves with his dad, Peter Becks, while his mother, Debra Robbins, looked around the classroom.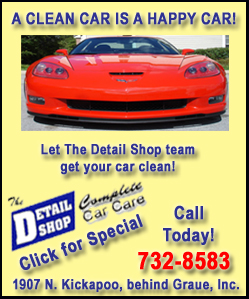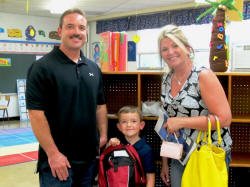 Mrs. Gandenberger's kindergarten room was a fascinating place to be on Wednesday night. Connor Brummell brought his book bag and looked for his cubby with the help of his parents, Jeff and Sue Brummell.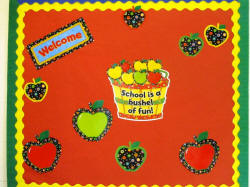 A bulletin board at the front door in Adams School greeted students and parents on Wednesday night with bunches of apples and a bright "Welcome."