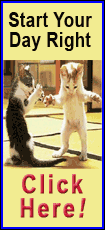 The suspect, who police declined to name, was arrested Thursday at a London police station after he attended voluntarily.
Britain's Guardian newspaper reported the man was James Desborough, a former Los Angeles-based reporter covering the Hollywood for the now-shuttered News of the World tabloid. It said his arrest was for activities before he moved to the United States.
Both News International, which owned the tabloid, and London police declined to confirm that Desborough was the suspect.
Police said a man was in custody and being questioned on suspicion of conspiracy to unlawfully intercept voicemail messages.