The Lincoln Jaycees organization serves Lincoln and the surrounding communities as a not-for-profit group, giving young people between the ages of 18 and 40 the tools they need to build the bridges of success for themselves in the areas of business development, management skills, individual training, community service and international connections. Membership meetings are at 7 p.m. on the third Thursday of each month at the Lincoln Jaycees Center, 325 S. Chicago St., and are open to everyone.
---

The annual Zion Lutheran School Family Fun Fest will be this Saturday, Sept. 3, at the school. Delicious food including pulled pork sandwiches, freshly boiled corn on the cob and homemade ice cream will be served from noon to 6 p.m. Inflatables, games, prizes, refreshments, and a pie and cake auction will also be part of the festivities. The public is encouraged to attend. For more information, call 732-3977.
---

The Lincoln Woman's Club is hosting a membership and orientation event with coffee and tea on Wednesday, Sept. 7, at 10 a.m. at their 230 N. McLean St. building. If you are interested in joining one of the world's largest volunteer organizations of women, please contact Judy Lumpp, 732-2727, or Judy Rader, 732-1709, by Sunday, Sept. 4.
---

To help ensure an adequate blood supply for our region, there will be a blood drive at Elkhart Christian Church, 113 S. Gillett in Elkhart, on Thursday, Sept. 8, from 3 to 6 p.m. For your convenience, call Lucille to sign up at 947-2702, or schedule an appointment online through www.cicbc.org. Walk-ins are also welcome and truly appreciated.
---

Gail's Pumpkin Patch, rural Beason, will open for their sixth season on Saturday, Sept. 10. The pumpkin patch will be open Sunday to Friday afternoons from 1 to 5:30 and on Saturdays from 10 a.m. to 5:30 p.m. The final day of the season is Oct. 31.
The family-owned pumpkin patch has over 50 varieties of pumpkins and gourds, along with corn, Nate's honey and doughnuts, straw, apples, cider, mums, a barrel train, toddler maze, baked goods, and lots of crafts. It is loaded with fall decorations and fun for the whole family. New this year is the Goat Lookout. U-pick or we-pick pumpkins will be available. You will be able to find the "perfect pumpkin." Admission is free.
Fall Farm Day will be Sunday, Sept. 11, from 1 to 5 -- an afternoon of pumpkin and face painting, farm tours, and bees.
For more information, call 217-447-3409, visit on the Web at www.gailspumpkinpatch.com or email gail@gailspumpkinpatch.com. Come join the fun.
---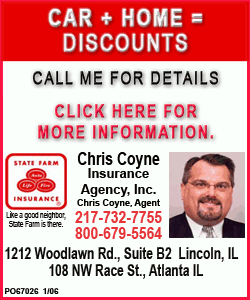 The Circle City Ringers will perform Saturday, Sept. 10, at 7 p.m. at St. John United Church of Christ, 204 Seventh St. in Lincoln. A social time will follow the concert. A freewill offering will be taken during the concert.
The Circle City Ringers ensemble is an auditioned, community-based handbell group from Indianapolis, Ind. Under the direction of Mike Keller, this ensemble performs year-round for many events, including church services, weddings, civic events, private parties, festivals and workshops. For more information, contact St. John United Church at 217-732-6957.
---

The Mount Pulaski Ministerial Alliance will host a 9/11 Remembrance Gathering under a tent on the south side of the Mount Pulaski square at 2 p.m. Sunday, Sept. 11. Pastors from all five Mount Pulaski churches -- First Christian, United Methodist, St. John's Lutheran, St. Thomas Aquinas Catholic and Zion Lutheran -- will participate. There will be recognition of our surrounding area military personnel who have served our country since 9/11, in addition to our local first responders -- fire, police and EMS personnel. The honor guard from Mount Pulaski American Legion Post 447, Sons of the American Legion Squadron 447 and Veterans of Foreign Wars Post 777 will post the colors. Mount Pulaski Boy Scout Troop 122 will lead in the Pledge of Allegiance. Also, the Mount Pulaski Community Choir and Orchestra will perform, led by Claus Tanner, former longtime instrumental and vocal director in Mount Pulaski public schools. A dessert social will follow.
---