This week, Dec. 12-16, the center is celebrating the preparation for the holiday season. Each day is a different theme for the staff and children. Monday is Red and Green Day, a time for everyone to find something red or green to wear. On Tuesday, it is Ugly Sweater Day -– surely there is one in the back of your closet -- with prizes for the best or worst sweater. Wednesday is Secret Santa Day. How can each family and staff spread notes of cheer? Look for creative ways to spread the joy. To be sneaky, participants are wearing hats for a disguise. Thursday is Wear Your Christmas Favorite. Also, families and staff are encouraged to bring in a photo of a Christmas memory. Friday is the staff favorite, Pajama Day -- but no sleeping on the job for the staff. There are lots of Christmas songs to sing and crafts to make, along with learning the Christmas story.

Wednesday, Dec. 21, at 11 a.m. there will be a luncheon for the families. They will join the children in the classroom for lunch and fun. Families will need to RSVP.

Christmas is the season of giving, and Christian Child Care would like everyone to remember United Way, which has been a supporter of the center and its goals for quality. United Way helps so many in our community, and many of the volunteers for United Way are making rounds of local businesses to deliver information on donations.
---

Hartsburg-Emden is bringing back Student of the Month selections for the junior and senior high school. This is a great way to recognize student achievement. Each month the staff will select one outstanding student to be featured from the junior high and one from the high school.
Hartsburg-Emden Junior-Senior High School announces their first selections for Students of the Month. The school congratulates each of them on their desire to be the best students they can be, each and every day. They are:
Junior high:
September: Alexus Buckles, seventh grade

October: Anna Hayes, fifth grade

November: Erin Lessen, eighth grade

December: Shyanne Conrady, sixth grade
High school:
September: Natalie Nowatney, sophomore

October: Nathan Hawthorne Newby, senior

November: Erica Wolpert, freshman

December: Josiah Klokkenga, senior
---

The lights of the Humane Society of Logan County's Tree of Hope, located at Ace Hardware, are once again being illuminated to represent tributes to loyal companions, loved ones and friends. The Tree of Hope project is designed so that everyone is able to help homeless animals, while honoring and remembering loved ones, friends and pets -- living and deceased. Tribute forms are in the mail and will be available at the HSLC Shelter and Ace Hardware.
The Tree of Hope celebration is especially important this year as the HSLC Shelter, 1801 E. Lincoln Parkway, is now open to its first guests. There are lively, adorable kittens, puppies and young adult cats and dogs ready for placement in forever homes. The shelter is open Wednesday 10-4, Thursday 10-4, Friday 10-5, Saturday 10-2 and Sunday 1-3 to anyone who wishes to visit the animals, look for a loyal companion or just enjoy the antics of the guests. You will not be disappointed.
---
Joseph Ahrends, eighth-grader at Zion Lutheran School in Lincoln, was selected as the Zion Lutheran October Student of the Month. Joe has been on the ZLS high honor roll, and his school activities include speech team, band, Bible Bowl, Math Bowl, Scholastic Bowl, Geography Bee, track and field, choir, and chimes choir.
He is a member of Zion Lutheran Church in Lincoln. His church and community activities include serving as president of the Chester 4-H Club, youth group, Sunday school, Art Fair volunteer and Kajukenbo martial arts. He also enjoys reading, acting and filmmaking. Joe's parents are Les and Marty Ahrends.
---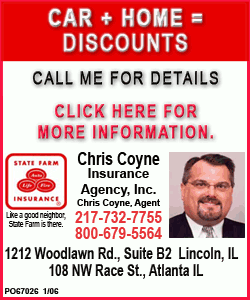 ---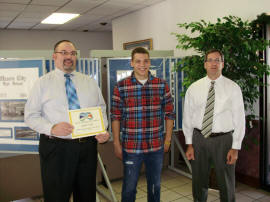 The 1st State Bank of Mason City and Illini Central High School have presented Dylan List with the November Student of the Month Award. For demonstrating outstanding character, he received a $50 savings bond from 1st State Bank and an iTunes card from the Illini Central High School faculty.
Dylan is the son of Jim and Dana List.
His classes this year include LTEC in Criminal Justice, Chemistry, Leadership, Social Thought and Physical Education.
In addition, Dylan plays basketball and baseball for Illini Central High School.
Dylan plans to attend a junior college for two years before transferring to Western University, where he will major in criminal justice/law enforcement.
---
Erich Maxheimer, son of Mike and Suzie Maxheimer of Chestnut, grandson of Earl and Dolores Maxheimer of Mount Pulaski, Charles and June Huffer of Lincoln and Pete and Della Eeten of Pekin, recently received a three-year Type-2 scholarship from the United States Air Force at the University of Illinois. This scholarship will cover all tuition, most fees, books and includes a monthly stipend until he graduates. Maxheimer is now contracted to the Air Force.
He was nominated by the cadre and was placed into a national pool of candidates. He was selected based on his ACT, college GPA, physical fitness and cadre ranking. Only around 30 percent of the nominees received a scholarship, which shows how competitive it is.
Erich is a 2010 graduate of Mount Pulaski High School.
---