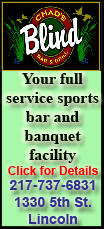 After losing their previous four games by a total of six points, Lincoln was hoping the home cooking would be enough to get them back in the win column. The Railers (3-6, 1-2) wasted no time in making a statement by jumping out to an early 7-0 lead.

Unlike previous games, Lincoln made a concerted effort to get to the basket, with Jordan Gesner's driving lay-up and Christian Van Hook's floater from the low block putting the Railers on the board. The inside play allowed the Railers to force Taylorville to focus more defensively in the lane, which in turn, gave Lincoln's 3-point shooters better looks. No one took advantage of that more than Will Podbelsek. The junior hit his first two from behind the arc, helping the Railers to a 10-3 lead.

A 5-0 run put the Tornadoes (0-9, 0-4) back to within two at 10-8, while a Van Hook putback was Lincoln's last score of the first quarter. A final basket from Taylorville cut the Lincoln lead to just two at the end of the first quarter. No one knew that would be the last Taylorville score for a long, long time.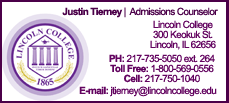 Gesner scored seven points in a 9-0 run to start the second quarter, and when freshman Gavin Block scored his first varsity points on a putback at the buzzer, the Railers had pitched their first defensive shutout of the season, holding the Tornadoes to only two shots and outscoring Taylorville 11-0 in the second quarter to take a 23-10 lead to the locker room.
What was also unusual was the rotation of substitutions used by Lincoln coach Neil Alexander. Normally, the Railers will use seven or eight players, but 12 players saw action in the first half, keeping a promise Alexander had made before the game.
"We told them a lot of kids would see some action," Alexander said. "We wanted to see some kids in some different spots to see what would work."
After trading baskets to start the third quarter, Taylorville scored five in a row to cut the Lincoln lead to 28-20, the last time on the night Taylorville would trail by single digits.
The rest of the quarter belonged to Podbelsek, a player coach Alexander called "the most consistent player we've had to this point." The junior, who scored 12 on Friday night at Jacksonville, scored nine of his 15 points in a two-minute stretch to end the quarter. Podbelsek drained two 3s, the second after a steal by Jake Olson, and then continued the aggressive play to the basket with a drive on the left side for a layup and foul, completing another three-point play.
After being held scoreless in the second, Taylorville did come back with 13 in the third, but was still outscored, leaving the Railers up 37-23 heading to the fourth.
The fourth quarter was a study in Lincoln lengthening the lead little by little. Taylorville would hit for two, the Railers would hit a 3, something they did 11 times on the night. Lincoln put the game out of reach with a 9-3 run at 39-27 to put the Railers up 48-30. The run included a couple more 3s from the game's high scorer, Gesner, who finished with 17 points.
After another basket from Gesner, it was two more 3s, one each from Van Hook and Block, that cemented the victory. The margin allowed all the players on the roster to see game action and, as the final horn sounded on the 17-point win, a big sigh could be heard from Railer Nation, knowing that of all the things that will be taken to Collinsville for the Holiday Classic next week, anything resembling a losing streak would not be one of them.
One area of concern in the second half was allowing 30 points. For a team that came in giving up points in the low 40's, 30 in a half is not what the coaching staff is looking for. Coach Alexander commented on this with, "We have to be tough after scores. When we score, we have to be strong and not let them come back down and get easy scores."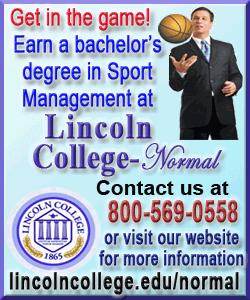 Saturday's game also continued a couple of tendencies from early in the season. The Railers have had three players score in double figures in a game three times this season, all wins. Also, in all games they have led at the end of the first quarter, those are the games that have ended up in the win column.
Gesner led with 17 points, while Podbelsek continued his strong play with 15 points. Van Hook added 11 points and a team-high five rebounds. Olson finished with six points, while Block tallied five, Max Cook added a basket and Austin Krusz scored Lincoln's final point from the free-throw line.
The sophomore squad got back in the win column with a 45-30 win.
The Railers will now take a break from game action until next Wednesday, when they will face Belleville East in the 1 p.m. game at Collinsville. The Lancers feature one of the top juniors in the state in Malcolm Hill. The game time on Thursday, either 10:30 a.m. or 2:30 p.m., will be determined based on Wednesday's outcome.
I hope you and yours have a very Merry Christmas.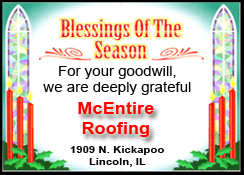 ___
LINCOLN (57)
Gesner 7-9 0-0 17, Podbelsek 5-8 1-1 15, Van Hook 5-10 0-0 11, Olson 2-5 0-0 6, Block 2-3 0-0 5, Cook 1-2 0-0 2, Krusz 0-0 1-2 1, Kirby 0-3 0-1 0, Eimer 0-0 0-0 0, Olden 0-0 0-0 0, Harris 0-2 0-0 0, Hays 0-1 0-0 0, Heidbreder 0-2 0-0 0, Horchem 0-0 0-0 0, Hemenway 0-0 0-0 0, Bowlby 0-0 0-0 0. Team 22-45 2-4 57. 3-point field goals 11-24 (Podbelsek 4-6, Gesner 3-4, Olson 2-5, Van Hook 1-2, Block 1-2, Harris 0-2, Kirby 0-3). Rebounds 21 (Van Hook 5), assists 12 (Cook, Olson 3), steals 8 (Podbelsek, Olson 2), turnovers 4.
TAYLORVILLE (40)
Wilhour 11, Jackson 10, A.Peters 8, Dees 3, McChristy 2, Willingham 2, Fulk 2, Norville 2. Team 16-31 3-5 40. 3-point field goals 5-13 (Wilhour 3, Dees, Jackson). Rebounds 21, assists 8, steals 2, turnovers 15.
Scoring by quarters:
LCHS 12-11-14-20 57
THS 10- 0-13-17 40
[By JEFF BENJAMIN]
Jeff Benjamin's Railer basketball articles