After wasting one of their best halves of the year, Illinois came out for the second half like they were taking a nap. Again, anyone who has ever dealt with a gopher problem knows that if you sleep or if you nap for even a moment, the gophers can take over. That is basically what happened.

You actually got a bad feeling about it just before halftime. One of the peskiest Gophers, Rodney Williams, threw in a circus shot that bounced off the backboard, good for three points and downsizing Illinois' lead from 13 points down to only 10 at intermission.

The infestation grew worse as the Gophers were coming on in hordes! Minnesota outscored the Illini 37-27 in the second half. Fortunately, Illinois outscored the Gophers 11-2 in the second overtime.

The Illini had five -- count them -- five men in double figures, led by Brandon Paul with 21 points and Meyers Leonard with 20. Joseph Bertrand and D.J. Richardson tallied 13 points each and Sam Maniscalco added 10. Illinois held the Gophers to just 38 percent shooting for the contest and outrebounded them 42-35 for the game. The Illini converted on 82 percent of their free throws, going 18 of 22.

It's hard to tell if it was the pesky Gophers or Illinois breakdowns, but the following trouble areas need immediate attention:
Passing: This team hasn't demonstrated the ability to be a very good passing team. They appear to be careless with the ball and at times just fire the rock around the horn with not much purpose. One thing that would help would be for receiving players to move toward the pass on the catch. I think the ankle passes, especially to our bigs, have run their course. When the passes got up in the air, good things happened. Hopefully that was a big lesson learned last evening.

Turnovers: 21 turnovers at home versus Minnesota is way too many. You might be able to tolerate 13 or so, but more than 15 is unacceptable. On the one hand, some of our players need enough playing time to get in the flow, but on the other hand, you can't make more than three turnovers in a ballgame. You can try going to the bench a little more often, but there must be positive production when you try to use the depth. Those turnovers allowed Minnesota to not only stay in the game, but should have allowed them to steal a victory at the Hall last night.

Savvy: This team needs to be a little more aware of situational basketball. We'll cut them some slack as they have just been through finals and Christmas break, but much more focus is needed. Carelessness and nonchalance add to the dilemma. I would like to see one or two of our players step forward, take charge and get us out of that helter-skelter or lackadaisical mode. It could be D.J. Richardson or could be Sam Maniscalco, though his ankle and just the overall wear and tear on him may force Tracy Abrams to develop even quicker (again, cutting down turnovers will be a key).

Defense: I don't have the official stats in front of me, but I counted at least 15 layups that the Gophers fed on last night. That's about 12 too many. The on-the-ball pressure must be better. Hustling into passing lanes must improve. Too many easy, uncontested shots were allowed. You can't keep letting Leonard or Griffey or Egwu pick up extra fouls, because guards are getting around the top and around the corner way too easily. Also, if you pack it in a little more, you could force teams like the Gophers to make shots, and they just hadn't proved they could do that. The blocks were great, but sometimes teams are getting the Illini off their feet and having an easier time of getting to the rim. I believe this is an area that can be fixed, and attention to it immediately will help.

Shot selection: For most of the season, it appears that shot selection has been better than the last couple of campaigns. However, a step back was witnessed last night. Not only was selection not good at times, but many times an Illini player would go up for a shot, change his mind and throw the ball at either his own feet or the feet of our tallest players... not what we are looking for. Also, since the Illini have shown an improvement in attacking the basket, of driving to the rim, the admonition to keep it up would be the ticket. If this team can get to the free-throw line more and more, it will take pressure off of having to score all the time in the half-court motion. It was also good to see some conversions on run-outs and fast breaks. This has been a struggle the last two or three years, and those golden opportunities must be cashed in by this team, as the margin for error is so small.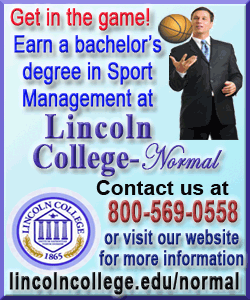 Going small: Illinois has used a smaller lineup the last two games, mostly out of necessity because of matchups. Beyond that though, it seems to have shown our identity or at least something to consider. The team appears to be quicker and moves better in the motion with those smaller lineups on the floor. The more athletic the lineup, it seems the more propensity there is for success. It seems that opponents are having trouble defending Illinois in those matchups. Illinois players are getting by defenders, getting better shots and getting fouled more. Those are trends I'd like to see more of.

Playing loose: I know everyone is frustrated. The fans are tired. The coaches are exasperated when they have watched film, done tireless instruction and then they see players throw the ball out of bounds, sometimes making unforced errors. Relax. It was a good thing we had a couple players who demonstrated poise and composure coming down the stretch last night (Meyers Leonard not the least among them) or Illinois takes a big, fat, embarrassing loss.
Hopefully, escaping the pesky Gophers will give this team a booster shot of how much harder, how much scrappier, how much more intense they will have to play to have the kind of success they hope for. For me, that all starts with the players. I was pleased last night that even though I was having my own private meltdown (special thanks to my buddies Payne and Hudson Coady for keeping my head in the game), many of them were not. They stayed tuned in to what needed to be done and somehow they found a way.
Critics of the team the last few years need to at least acknowledge that this group is different in that they never quit and seem to find a way. The Big Ten favors teams that find a way, survive and move on. IF they continue to do that, they will give themselves a fighting chance the rest of the way.
The more they can enjoy it, use their speed, quickness and other abilities to the max, the more fun they will have.
If they can block out those fans who have issues with the coaches or even some of the players and circle the wagons among themselves, they will improve their chances.
Remember... almost all of the experts saw this team in the middle of the pack... and they may end up there... however, I see some upside and the possibility that these guys could get better than a lot of those experts said. Not saying that they will, but if they give attention to these concerns that have been identified, they could surprise some people along the way.
I noticed that the looser Illinois was, the more the intensity picked up on defense. It seemed like shot selection was better, there was better screening and opportunities to score. I know that some people like a more regimented, disciplined system, but to me, the more swagger, loosy-goosy these guys are, the better. And yes, there is a fine line between that and being nonchalant... I can't describe the difference, but I know it when I see it. I saw some of it the second half versus Missouri and the first half versus Minnesota... Now I'd like to see it consistently for 40 minutes... just to see what we could do... Wouldn't that be fun...?
...like getting rid of your gopher problem...
[By JEFF MAYFIELD]
Respond to the writer at jmayfield@ctitech.com.