"Let it Idle!"

Send a link to a friend
-Thanksgiving is now over and we are headed straight toward Christmas. Every year, time seems to pick up pace about right now and we're all left shaking our heads, and wondering why we do this to ourselves. By January, we've had enough gifts, family, friends, parties, and food to last…well…till next Christmas at least.
Every Christmas, some new contraption comes out that makes our "just have to have" list. It is always some new product everyone desires. Many of the new items promise to make your life easier and more comfortable or convenient.

A few years back, one advertisement caught my wife's eye. It was for a device that would remotely start your cold car from within your home and allow it to warm up for you. Living in a cold weather climate, I could see the value of such equipment. The ad simply said, "Let it idle!" She wanted it and I bought it.
As I remember back, I love that ad, "Let it idle!"
I've already been stressed and Christmas hasn't even kicked into gear yet for me. My wife and I are already talking about Christmas travels and parties and family gatherings we need to work out and just thinking about it already has me uptight.
I wonder how I can "let it idle" this Christmas. How can I make sure I give enough of myself to love on family and still give some time to myself so I refresh my spirit? Can I do both? If I can, it will enhance my holiday time.

Jesus only had three years to perform His ministry and yet, if you were to add up all the times He retreated to the mountains or went fishing or spent time with friends, you would soon discover that over nine months of His precious ministry was time off. I have to believe that if Jesus needed time down then we are all designed to need time down.
"Let it idle" is a good reminder to slow down a little. Sit down…take a deep breath…and be present with people around me. Tune in to others!
Imagine; you are at a grocery store and see an elderly gentleman struggling to push a large cart through the newly fallen snow. Could God have just a minute of your time? Could you take a moment of your day and just let it idle by walking a man to his car?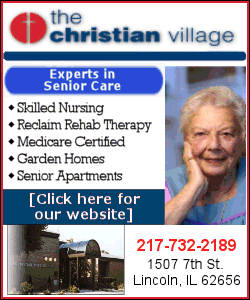 Imagine you are driving down a road and notice a family with a flat tire by the side of the road. Could you slow down your busy day and give a hand?
Imagine your adult niece is having a difficult time in her life and she starts sharing with you right as you are ready for the afternoon Christmas nap. (Really…right now you want to talk?) Could you "let it idle" long enough to listen to her, give a little comfort, a little guidance, a little attention?

Don't think for a moment that things like this are not happening around you. They are! All three of these stories happened to me last Christmas and I'm sorry to say I only responded well to two of them. (After all, it was nap time.)

Listen to me: slow it down a little. Take in the moments of family and friends. As it reads in a family member's home, "Live, Laugh, and Love!"

And I'd add this Christmas, "Let it idle!"
[Ron Otto, Lincoln Christian Church]