Historical society, writing club, Bennett calendars, Mount Pulaski Rotary, blood drive, Draw 4 Carroll, Mount Pulaski State Scholars and Matthew Southerlan make Close Up
By Mike Fak

Send a link to a friend


[December 27, 2011] The Logan County Genealogical & Historical Society invites members and guests to bring an heirloom, antique or an old item to share. Objects with unknown purpose or origin are welcome for discussion and possible identification. The date is Jan. 16 at 6:30 p.m. at 114 N. Chicago St. in downtown Lincoln.
---

The Lincoln Writers Club will meet on Jan. 10 at 6:30 p.m. in the Alumni Room of the Lincoln College dining hall. Mike Fak, editor of www.lincolndailynews.com, will be the guest speaker. All are welcome. For more info call 732-2723.
---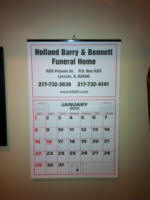 The 2012 large-print wall calendars are in at Holland Barry & Bennett Funeral Home. Stop in to get yours or call 732-2638.

---

The Mount Pulaski Rotary Club will feature Mike Maniscalco, the new executive director of the Logan County economic development board, as their speaker on Thursday, Jan. 5, at noon lunch at Buff's Restaurant on the square in Mount Pulaski. Guests are welcome to attend.
---

To help ensure an adequate blood supply for the region, there will be a blood drive at Elkhart Christian Church, 113 S. Gillett in Elkhart, on Thursday, Jan. 5. The hours of the blood drive are 3 to 6 p.m. For your convenience, call Lucille to sign up at 947-2702 or schedule an appointment online at www.cicbc.org. Walk-ins are also welcome and truly appreciated.
---

The December Draw 4 Carroll winners are:
(Winner; seller)
$500 -- Margaret Blanford; Margaret Blanford

$250 -- Ken Tappendorf; Mary Tappendorf

$150 -- Phyllis LaMothe; Phyllis LaMothe

$100 -- Stacy Hanger; Stacy Hanger
The next Draw 4 Carroll drawing will be on Wednesday, Jan. 18, at 1:30 p.m. at the Holy Family Parish office.
---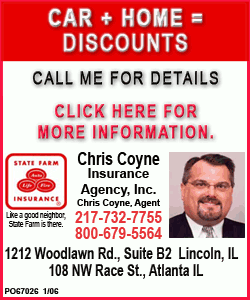 ---
Three Mount Pulaski High School students have been named Illinois State Scholars for 2012-13. The honored students are Alexandra Conley, daughter of John and Lisa Conley of Mount Pulaski, Mark Foley, son of Robert and Sharon Foley of Mount Pulaski, and Carly Powell, daughter of Deron Powell of Mount Pulaski and Linda Smith of Elkhart.
Illinois State Scholars are named by the Illinois Student Assistance Commission, the state's centralized provider of financial assistance aimed at helping students and families access postsecondary education or training. Each year, the commission awards scholarship and grant aid to qualified students, and also provides loans to qualifying students. The agency also offers a broad array of outreach and informational services to ensure that families have access to the information they need to pay for a college education.
Illinois State Scholars rank in the top 10 percent of high school seniors across Illinois. Selection is based on SAT, ACT and Prairie State Achievement Exam scores, and class rank at the end of the junior year. While the designation of Illinois State Scholar is not a monetary award, students who are selected are among the top students academically in each high school in Illinois.
---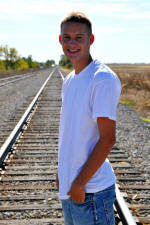 Matthew Southerlan has been named December Senior-of-the-Month at Mount Pulaski High School. Matthew is the son of Tim and Mary Southerlan of Mount Pulaski.
During high school Matthew has been active in National Honor Society, serving two years as vice-president and currently serving as co-president. He has been a four-year member of FFA, serving as vice-president. He also participated in Science Olympiad for two years and was a member of the Scholastic Bowl team. He served on the prom committee during his junior year.
Matthew is a four-year member of the soccer team, serving as captain his senior year. He also is a four-year member of the track and field team, and a four-year member of the Spirit Squad.
Matthew plans to attend the University of Missouri to major in journalism, with an emphasis in public relations and marketing.
The Senior-of-the-Month program is co-sponsored by Mount Pulaski Pharmacy and Johnson's Food Center of Mount Pulaski. Monthly winners receive $100 savings bonds and are eligible to compete for the $1,000 Senior-of-the-Year award.
---