'Gov. Oglesby and Lincoln' theme for Elkhart's dinner-lecture March 25

Send a link to a friend
[February 16, 2011] ELKHART -- Join the Elkhart Historical Society on March 25 for a dinner and a lecture on the topic of Gov. Richard J. Oglesby and President Abraham Lincoln. The event will be at The Wild Hare Café on 104 Gov. Oglesby St. in historic downtown Elkhart and will feature historian Guy C. Fraker as the speaker.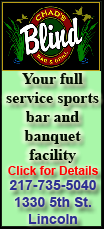 Fraker holds a law degree from the University of Illinois, has been a practicing attorney in Bloomington for over 40 years and has made court appearances throughout Lincoln's old 8th Judicial Circuit. He is the author of "Our Link to Lincoln," a series of articles published by the Bloomington Pantagraph about Lincoln's ties to Bloomington. He is currently working on a book about the 8th Judicial Circuit and its influence on Lincoln. Fraker is published in the Journal of Abraham Lincoln Association and provides commentary for bus tours of the Lincoln Circuit.

Gov. Oglesby -- soldier, statesman, three times elected governor, U.S. senator and friend to Abraham Lincoln -- lived in his home called "Oglehurst" in Elkhart from 1889 until his death in 1899. In 1874 he gave the dedication for Lincoln's Tomb in Springfield. Oglesby's funeral was in the chapel in Elkhart Cemetery and his funeral cortege walked across the Elkhart bridge, led by Robert Lincoln, son of President Lincoln. Oglesby is well-known for introducing the rail-splitter image into Lincoln's presidential campaign in 1860 and was considered an intimate personal friend to Lincoln.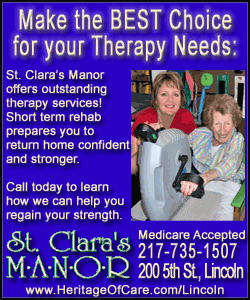 Although Oglesby's home in Elkhart is no longer standing, his mansion in Decatur is now a museum. A special display board of the Decatur mansion will be at the Elkhart Public Library during the month of March, courtesy of the Gov. Richard J. Oglesby Mansion board. On March 25 the display will be moved to The Wild Hare Café to be available to the guests at the Elkhart Historic Society's dinner and lecture. March 28 through April 15, the Lincoln Heritage Museum in Lincoln will have a special exhibition on Oglesby. This exhibit will examine the life of the governor and his association with Lincoln and Grant.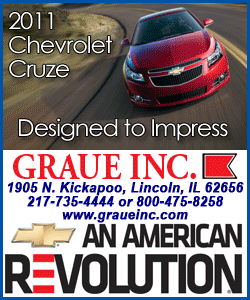 Other opportunities for those "Looking for Lincoln" in the Elkhart area include the Postville Courthouse in Lincoln, where Abraham Lincoln once practiced law; the Mount Pulaski Courthouse in Mount Pulaski; and the Elkhart Cemetery and John P. Gillett Memorial Arch. If you are staying overnight, the Best Western Lincoln Inn has special rates for those attending Elkhart events. Call 217-732-9641 and mention that you will be attending the March dinner-lecture in Elkhart.
Reservations must be received by March 21. Dinner begins at 5:30 p.m., followed by the lecture from 7 to 8 p.m. The cost of the dinner is $24 per person and includes the meal, beverage (coffee or tea), dessert, tax and gratuity. More information and the online printable reservation form are available at www.elkharthistoricalsociety.org or by telephoning 217-947-2046.
[Text from file received from Abraham Lincoln Tourism Bureau of Logan County]