Humane Society news, Soil Savers banquet and swing dance lessons make the Close Up
By Mike Fak
[January 04, 2011] The Humane Society of Logan County Tree of Hope campaign was the best ever. The generous people of Logan County have contributed over $4,000 to honor or memorialize a companion, loved one or friend.
The organization will host a chili lunch on Saturday, Jan. 15, at Friendship Manor. Tickets are now on sale for $6. If you would like to sell tickets or volunteer to help at the lunch, please call Cherrilyn Johnson at 217-735-2258.
---

The Land of Lincoln Soil Savers Club is planning their winter dinner meeting for Tuesday, Jan. 11. The meeting will begin at 6 p.m.
Speaker for the evening will be Darrel Good, professor emeritus in the Department of Agricultural and Consumer Economics, University of Illinois. He has been on the faculty at the U of I since July 1976, following four years on the faculty at Cornell University and Michigan State University. Dr. Good has research responsibilities in the areas of crop prices and marketing. He is author of the Weekly Outlook newsletter and has helped develop a comprehensive farm risk management website, www.farmdoc.illinois.edu. Current research is focused on the performance of grain futures contracts and corn and soybean yield trends.

The group will enjoy a smorgasbord dinner at the Lincoln American Legion. Cost of the dinner will be $8 per member if reservations are received by Jan. 4. Cost for nonmembers is $10. After Jan. 4, all reservations will be $11 per person. Anyone wishing to become a member of the club may pay 2011 dues of $10 per family and $8 per meal.

Stop by the Logan County SWCD, 1650 Fifth Street Road in Lincoln, to make reservations. Make checks payable to: Land of Lincoln Soil Savers. For further information, call 217-735-5508, ext. 3.
---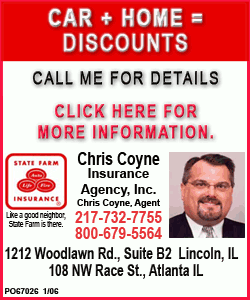 Swing dance lessons are being offered by the Lincoln Park District at 1400 Primm Road. Castle Manor and the park district are sponsoring this together. Join them for five weeks, beginning Jan. 21, from 7 to 8 p.m. Lessons are designed with beginning dancers in mind. Each week another move will be taught and mastered.
Instructors are Ethan Tapscott and Emilie Lowe. Some of you who were at the recent USO dance at the American Legion may remember them. They are an awesome dancing couple.
Those not attending lessons are invited to join in for an open swing dance from 8 to 9 p.m.
Cost for lessons is $50 per person, $60 per couple, and the open swing dance is $5 per couple or $2.50 per person.
---

Got a good piece of news, information or something that we can all brag about? If you do, e-mail Mike and let us tell everyone about it. Plus you can win cash. Every submission, whether we use it or not, will get your name in the Close Up grab bag. At the end of the month we will draw a name and someone will get $25 just for dropping us an e-mail. If you wish, we will be happy to donate your winnings to the organization of your choice.
You can contact Mike at mikefak@lincolndailynews.com.
[MIKE FAK]