Honeydew, cucurbit insects, bagworms

Send a link to a friend
[July 06, 2011] Sticky mess under trees -- People are beginning to complain about leaking sap coming from trees. Actually this has been going on for a week or so. What happens is a fine mist of sap coats things beneath a tree. This is actually called honeydew, which is a secretion of sucking insects such as aphids and lace bugs. What makes matters worse is a fungus begins growing in the honeydew, making it turn black.
There are two ways to deal with the problem. The first way is to spray the entire tree with a product such as malathion to kill the insects. The second way is to move anything portable from under the tree. If you opt for the first option, you need to make sure you can spray the entire tree. The kind of weather predicted will increase aphid numbers at a very great rate.

Cucurbit insects

Cucurbits are basically everything in the squash and melon families. There are several potential insect problems with them, and today's column attempts to help minimize or prevent these problems.

In the first group of problem insects are the cucumber beetles. These can be green, black and yellow striped, or black and yellow spotted. They are also called corn rootworm beetles when they are in cornfields. When these insects are in cucurbits, they are usually called cucumber beetles. The importance of the beetles is not that they eat small holes in the leaves, but that the striped and spotted beetles can transmit a bacterial wilt to the plants as they eat. The first thing you see is you have a plant that suddenly wilts on various runners, or the entire plant. The best means of controlling this disease is a good beetle control program. Current homeowner recommendations would include these products, with the days-to-harvest restrictions in parentheses: carbaryl (none), bifenthrin (three days) or rotenone (one day).

Of course, Japanese beetles love cucurbits as well. Their damage is direct leaf feeding. Remember, they feed in groups, so once they get started, you will have a battle on your hands. The carbaryl and bifenthrin are both good control measures.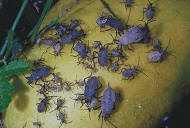 Squash bugs are the next problem to discuss. Squash bugs are usually dark gray to black in color and like a long stink bug. Their eggs usually hatch in mid-June to mid-July. The best control timing is when the eggs first hatch. Nonrestricted products are sabadilla (one day), which is an organic product that might be a little hard to find, and bifenthrin (three days to harvest). One last note: If the squash bugs get past their early growth stages, then physically removing them is about the only control method available.
The last insect problem on cucurbits is squash vine borers. These borers usually drill into the new runner areas and kill off individual runners one at a time. The adults of these larvae are red and black clearwinged moths. Scout your plants and look for the adults, as well as entrance holes and the chewed-up plant material. Treat as soon as early damage occurs and use one of the following homeowner products: carbaryl, bifenthrin or rotenone. Days-to-harvest restrictions have already been covered (and these would also apply to pumpkin blossoms).
Bagworm reminder
If you haven't checked for bagworms yet, now would be a good time. I've seen some this year of three-fourths-inch bag size. Re-treatment may be necessary in some cases. Sevin will work on the smaller sized bagworms, while the Bt products may be required for the larger ones.
Remember, bagworms frequently start in the tops of trees. Bagworms are the larvae of clearwing moths that don't fly too well. If you control the bagworms well, you may not have high populations for a few years.