'Fair Cow'

Send a link to a friend
[July 13, 2011] "Fair Cow," written and illustrated by Leslie Helakoski, Marshall Cavendish for Children, 2010, 29 pages, ages 4-9
Effie had a big dream: to be a champion cow at the state fair. Although she loved her life on the farm, she wanted to experience the excitement of fair competition. Her friend, Petunia Pig, decides to help her out. Petunia sets out to get Effie in shape with exercise, fixes her hair, paints her spots, paints her hooves a bright red, glues her tail and teaches her how to walk properly.
Each beauty touch-up is expertly depicted in the illustrations, with Effie using a treadmill and dancercising to get in shape, sitting under a hair dryer with curlers, and painting her hooves. But when Effie arrives at the fair, the other cows have fancier hairdos, shinier hooves and can walk with a strut that a runway model would envy. In fact, they are perfect. Poor Effie!
When they leave the barn to go to the show arena, Effie realizes the breeze feels great, the grass smells delicious and the water in the pond is very inviting. The other cows are shocked. The breeze could mess up their hair, the grass could make their teeth green, and water could make them bloat. When Effie arrives at the arena she is a happy mess. She has turned back into the original Effie.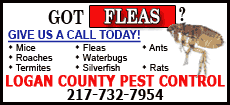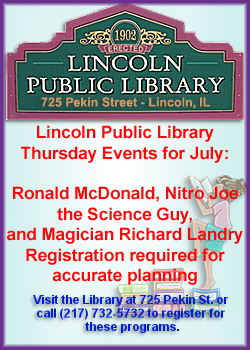 There are many books that encourage children to be themselves, and this is one that delivers the message with humor and fun. Readers will understand Effie's dreams, recognize the haughtiness of the competition and cheer for Effie in the end. It is a delightful story for any young reader but will be especially appreciated by those from a rural background where fairs and cattle judging are known to them.
Helakoski does a fantastic job of matching text and illustrations to round out Effie's story. It is a visual delight that will have children poring over the pages to find every little detail. Don't miss this one.
You will find it in the juvenile section of the Lincoln Public Library, 725 Pekin St. Look for more books about fairs while you are there!
[Text from file received from Louella Moreland, Lincoln Public Library District]
(Ms. Lou's blog: lincolnpubliclibraryupdates.blogspot.com)