Emden set for 64th homecoming

Send a link to a friend
[July 15, 2011] EMDEN -- Emden's 64th annual homecoming, sponsored by the local Sons of the American Legion, will run through Sunday. Besides live entertainment, the homecoming will offer vintage vehicles, a townwide garage sale, food -- including the annual chicken supper -- and drawings for cash prizes.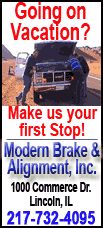 Entertainment sponsors for the family-oriented event are Rail Splitter Wind Farm and Joe Ryan -- Country Financial.

Amusements will be provided by Summer Time Fun of Streator. Wristbands are available for rides and can be used from noon to 4 p.m. on Saturday. Rides will also be open from 5 to 9 p.m. on Friday and Saturday.

Friday's activities will kick off at 4:30 p.m. with the town's annual chicken supper, which will be served in air-conditioned comfort by the Hartem FFA.

New Salem Country Opry will perform following a 7:30 p.m. opening ceremony. At 10:30 p.m. the Legion ticket drawing will take place. Prizes of $141 (Emden's age) and $64 (the homecoming's age) will be awarded. Ticket holders do not need to be present to win.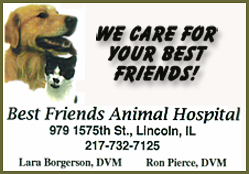 On Saturday, the multi-family townwide garage sale will start at 8 a.m. and run until noon.
The Boy Scout encampment will offer a demonstration with breakfast for a donation at 9 a.m. Pork chop sandwiches will be served at the grade school triangle from 8 a.m. to 3 p.m.
Land of Lincoln Antique Tractor & Engine Club will be in town on Saturday, and a cruise-in is scheduled from 11 a.m. to 3 p.m.
"American Strong" is the theme for the 2011 parade. Sign-up and check-in will start at 12:30 p.m. The parade will begin at 2 p.m.
A kiddie tractor pull, sponsored by the Logan County Farm Bureau, is scheduled at the depot at 3 p.m.
At 4:30 p.m. Saturday, the Boy Scouts of Troop 127 will offer both fried fish and pulled pork. The meal will cost $8 for age 13 and older, $4 for ages 8 to 12, and will be free for children 3 and younger. Delivery is available in Emden and can be arranged by calling Nora Phillips at 671-4567 between 5 and 7 p.m.
The Dynamics will perform following an opening ceremony onstage at 7:30 p.m. The Legion ticket drawing will take place at 10:30 p.m. with cash prizes of $250, $150 and $50. Ticket holders do not need to be present to win.
In conjunction with the festival, Bulldog Inn in Emden will offer entertainment and a beer tent on both Friday and Saturday.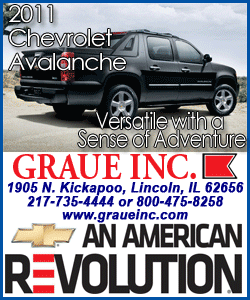 The 64th annual homecoming will conclude with a combined church service at Emden Lutheran Church at 9 a.m. Sunday. Participants are asked to bring lawn chairs.
Later this month, the Emden Historical Society will sponsor a cemetery walk at Bethel Cemetery. The event will begin at 6:30 p.m. on July 22 and 23. Participants may bring lawn chairs. Tickets are available from historical society members. The society's museum is located upstairs in the Emden Community House.
Emden is located on County Road 20, south of Route 136 and west of Route 121 in Logan County.
According to the community's website, William Scully originally owned the area now named Emden. After years of buying and selling, the town was surveyed on June 16, 1871. The village received its name from Emden on the River Ems in northern Germany. Teis Smid, a blacksmith, and William Scully are given credit for the establishment of the Emden in Illinois.
[Text from file received from Abraham Lincoln Tourism Bureau of Logan County]