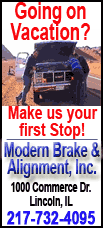 A very hot and humid air mass over the middle of the nation will drift eastward out of the plains and into Illinois the next few days. Central and southeast Illinois has begun to feel the oppressive heat and humidity early this week. However, higher heat and humidity levels are expected from Tuesday through the rest of the week. Current indications are that this heat wave will last throughout the week.

An excessive heat warning remains in effect until 7 p.m. Friday for the counties of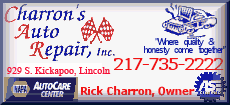 Knox, Stark, Peoria, Marshall, Woodford, Fulton, Tazewell, McLean, Schuyler, Mason, Logan, DeWitt, Piatt, Champaign, Vermilion, Cass, Menard, Scott, Morgan, Sangamon, Christian, Macon, Moultrie, Douglas, Coles, Edgar, Shelby, Cumberland, Clark, Effingham, Jasper, Crawford, Clay, Richland and Lawrence, including the cities of Galesburg, Peoria, Bloomington, Normal, Havana, Lincoln, Champaign, Urbana, Danville, Jacksonville, Springfield, Taylorville, Decatur, Charleston, Mattoon, Shelbyville, Effingham, Flora and Lawrenceville.
The combination of temperatures in the 90s and dew points in the mid to upper 70s will produce dangerous heat index values of 105 to 115 degrees from late morning into early evening each day and will be highest from 2 to 6 p.m.
The effects of heat stress are cumulative and increase each day the heat lasts. Anyone spending significant amounts of time outdoors or involved in strenuous activity will be susceptible to serious and potentially life-threatening heat illnesses.
Precautionary and preparedness actions:
An excessive heat warning means that a prolonged period of dangerously hot weather will occur. The combination of hot temperatures and high humidity will create a dangerous situation in which heat illnesses are likely for those outdoors or in locations without air conditioning.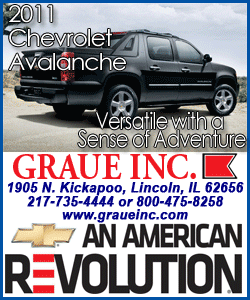 Take extra precautions to reduce risks during outdoor work. Reschedule outdoor activities to early morning or evening if possible. Drink plenty of water, even if you do not feel thirsty. Schedule frequent rest breaks in shaded or air-conditioned areas. Check up on relatives and neighbors, especially the elderly. Children and pets should never be left unattended in vehicles under any circumstances. In these weather conditions, car interiors can reach lethal temperatures in a matter of minutes.
Know the signs and symptoms of heat exhaustion and heatstroke. Anyone overcome by heat should be moved to a cool location. Heatstroke is a life-threatening medical emergency -- call 911.
___
Graphical depiction:
http://www.crh.noaa.gov/ilx/
[Text from National Weather Service, Lincoln office]