Today's highlight in history:
On July 19, 1961, TWA became the first airline to begin showing regularly scheduled in-flight movies as it presented "By Love Possessed," starring Lana Turner, to its first-class passengers.
On this date:
In 1553, King Henry VIII's daughter Mary was proclaimed Queen of England after pretender Lady Jane Grey was deposed.
In 1848, a pioneer women's rights convention convened in Seneca Falls, N.Y.
In 1870, the Franco-Prussian war began.
In 1943, allied air forces raided Rome during World War II.
In 1969, Apollo 11 and its astronauts, Neil Armstrong, Edwin "Buzz" Aldrin and Michael Collins, went into orbit around the moon.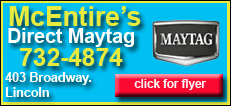 In 1979, the Nicaraguan capital of Managua fell to Sandinista guerrillas, two days after President Anastasio Somoza fled the country.
In 1980, the Moscow Summer Olympics began, minus dozens of nations that were boycotting the games because of the Soviet military intervention in Afghanistan.
In 1986, Caroline Kennedy, daughter of President John F. Kennedy, married Edwin A. Schlossberg in Centerville, Mass.
In 1989, 111 people were killed when a United Air Lines DC-10 crashed while making an emergency landing at Sioux City, Iowa; 185 other people survived.
In 1990, President George H.W. Bush joined former presidents Ronald Reagan, Gerald R. Ford and Richard M. Nixon at ceremonies dedicating the Nixon Library and Birthplace (since redesignated the Richard Nixon Presidential Library and Museum) in Yorba Linda, Calif.
Ten years ago: Japanese prosecutors charged a U.S. airman with rape in an alleged attack on a woman in Okinawa. (Air Force Staff Sgt. Timothy Woodland was later convicted and sentenced to nearly three years in prison.) Circus animal trainer Gunther Gebel-Williams died in Venice, Fla., at age 66.