Blades, Humane Society, Dr. Dan Freesmeier and Original Farmers' Market make Close Up
By Mike Fak

Send a link to a friend

[July 19, 2011] Blades Hair & Nail Salon, located at 241 Madigan Drive in Lincoln, is hosting a St. Jude Cut-a-thon on July 30 from 9 a.m. to noon. Children's, men's and women's appointments will be taken by calling 732-7213 or 732-6293, plus walk-ins are welcome. All proceeds go to St. Jude's.
---

The Humane Society of Logan County will wash dogs on Saturday, July 23, from 10 a.m. until 1 p.m. at the Lincoln Kroger, 1475 Woodlawn Road. Donations are accepted for the wash. Dog nail clipping available for an additional $7.
---

For many years, you may have attended Dr. Dan Freesmeier's very informative health issues classes at the county health department on the first Monday night of each month. His class was canceled due to budget cuts there, but his one-hour class will begin again on Aug. 1 at 6 p.m. at Faith Lutheran Church, 2320 N. Kickapoo. The class will be sponsored by the Faith Lutheran Parish Nurses, and the topic will be digestion. The classes will continue on the first Monday of each month at 6 p.m. at the church. Dr. Dan will start with a topic but will also address any of your health questions, on any topic, during each one-hour class. Please do come, bring your family and friends, and learn how your body works. You will be amazed at what all you will learn.
---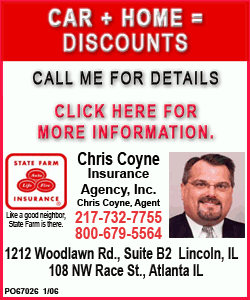 Linda Webster of Lincoln was the winner of the first drawing for free produce from the Original Farmers' Market in Latham Park, on July 9. The drawing for the second basket, on July 16, was won by Marcus Miller of Lincoln
The baskets contain items donated by the vendors of the market.
The weekly, Saturday-only drawings go on at the market throughout the heart of the growing season. To win a basket, visitors need to submit their name and phone number. No purchase is required, and people entering the drawing need not be present to win.
---