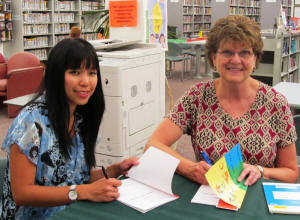 New Lincoln authors' book signing hosted by Lincoln Public Library

Send a link to a friend
[July 21, 2011] Guided by a sense of adventure and beginners' blind faith, two local women partnered their skills to publish a children's book. The process was so easy and they were so pleased with the results that they created a second book. Those two books -- "ABC From Land and Sea" and "123 From Land and Sea" -- are full of poems and illustrations of a lighthearted nature, written in fun for children to enjoy.
The poetry came from Kathy Kesner; the illustrations were designed by Irene Kueh. On Wednesday morning the ladies conducted a book signing at the Lincoln Public Library and explained how their partnership developed.

"I have wanted to write a novel, but I wanted to publish something now, not later," Kueh said. "So, I thought something small would be a good start, to see if I could do it. I pushed Kathy into doing the book, because she didn't want to, but she finally agreed."

"I had never thought about writing poems for publication, but she kept asking, and I finally agreed," Kesner explained. "It was not as hard as I thought it would be."

"It's just like she wrote in the back of this one," Kueh said as she turned to a page in "ABC From Land and Sea":

Irene birthed this book; then dragged me in, too.

She asked me to "tweak" it; make it special for you.

I kicked and screamed and tried to run.

Thanks to her for the push. It's really been fun.

The ladies are co-workers at CEFCU in Lincoln. In conversation, they discovered each other's abilities. Kathy's poems seemed to be what Irene was looking for to fulfill her dream of publishing something small, just to go through the process and find out how it is done.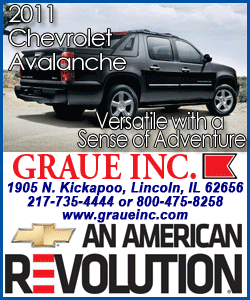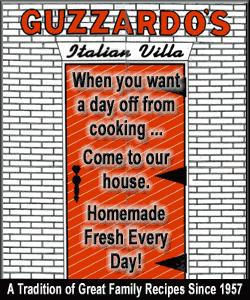 Each page is filled with drawings of people, animals and figures made from or included with letters or numbers, depending on which book you are reading. The characters are colorful and fun.
Kueh is also a writer and is currently finishing a paranormal mystery. There is no target date for publication.
"ABC From Land and Sea" and "123 From Land and Sea," by Kathy Kesner and Irene Kueh, are available at two locations in Lincoln -- Prairie Years, 121 N. Kickapoo, and The Owl's Roost Bookstore and Coffeebar, 427 Pulaski.
[By MARLA BLAIR]