July questions and answers from Social Security

Send a link to a friend
[July 20, 2011] GENERAL --I thought I saw Patty Duke with George Takei in a new video for Social Security. Was that really them?
Answer:
Yes. Patty Duke joined George Takei to tell Americans to Boldly Go to www.socialsecurity.gov to apply for retirement, disability, Medicare, and so much more. The two celebrities have donated their time for a new campaign promoting Social Security's online services as an easy and secure way for people to do business with the agency. Learn more at www.socialsecurity.gov where you also can watch the videos online.

QUESTIONS AND ANSWERS
Question:
When a person who has worked and paid Social Security taxes dies, who is eligible for survivors benefits?
Answer:
Social Security survivors benefits can be paid to:
Widows or widowers — full benefits at full retirement age, or reduced benefits as early as age 60;
Disabled widows or widowers — as early as age 50;
Widows or widowers at any age if they take care of the deceased's child who is under age 16 or disabled and receiving Social Security benefits;
Unmarried children under 18, or up to age 19 if they are attending high school full time. Under certain circumstances, benefits can be paid to stepchildren, grandchildren, or adopted children;
Children at any age who were disabled before age 22 and remain disabled; and
Dependent parents age 62 or older.
Even if you are divorced, you still may qualify for survivors benefits based on the earnings record of a former spouse. For more information, go to www.socialsecurity.gov.

RETIREMENT
Question:
What is a Social Security "credit?"
Answer:
During your working years, earnings covered by Social Security are posted to your record. You earn Social Security credits based on those earnings. The amount of earnings needed for one credit rises as average earnings levels rise. In 2011, you receive one credit for each $1,120 of earnings. You can earn up to a maximum of four credits a year. Most people will need a minimum of 40 credits (or 10 years of work) to be eligible for retirement benefits. Learn more by reading the online publication How You Earn Credits at www.socialsecurity.gov/pubs/10072.html.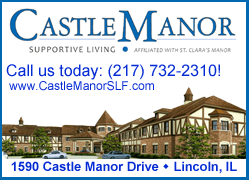 Question:
What's so easy about applying online for benefits?
Answer:
There's no need to go to a local Social Security office or wait for an appointment with a Social Security representative. You can apply in less than 15 minutes. Just visit www.socialsecurity.gov. Once you submit your electronic application, you're done. In most cases, there are no forms to sign or documents to mail. Try it at www.socialsecurity.gov.
Question:
What is the earliest age that I can begin receiving retirement benefits?
Answer:
You can get a reduced benefit as early as age 62. Keep in mind that your monthly benefit amount would be about 33 percent higher if you wait until age 66 and nearly 80 percent higher if you defer payments until age 70. Visit our Retirement Estimator to find out how much you can expect to receive. You can find it at www.socialsecurity.gov/estimator.
By Judith Bartels
Social Security District Manager in Springfield, IL