Today's highlight in history:
On July 23, 1886, a legend was born as Steve Brodie claimed to have made a daredevil plunge from the Brooklyn Bridge into New York's East River. (However, the exact circumstances of the jump are in dispute, with skeptics saying it never actually occurred.)
On this date:
In 1829, William Austin Burt received a patent for his "typographer," a forerunner of the typewriter.
In 1885, Ulysses S. Grant, the 18th president of the United States, died in Mount McGregor, N.Y., at age 63.
In 1914, Austria-Hungary issued a list of demands to Serbia following the killing of Archduke Franz Ferdinand by a Serb assassin; the dispute led to World War I.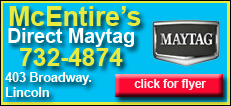 In 1945, French Marshal Henri Petain (ahn-REE' pay-TAN'), who had headed the Vichy (vee-shee) government during World War II, went on trial, charged with treason. (He was convicted and condemned to death, but the sentence was commuted.)
In 1951, Henri Petain died in prison.
In 1952, Egyptian military officers led by Gamal Abdel Nasser launched a successful coup against King Farouk I.
In 1967, a week of deadly race-related rioting that claimed 43 lives erupted in Detroit.
In 1977, a jury in Washington, D.C., convicted 12 Hanafi (hah-NAH'-fee) Muslims of charges stemming from the hostage siege at three buildings the previous March.
In 1986, Britain's Prince Andrew married Sarah Ferguson at Westminster Abbey in London. (The couple divorced in 1996.)
In 1996, at the Atlanta Olympics, Kerri Strug made a heroic final vault despite torn ligaments in her left ankle as the U.S. women gymnasts clinched their first-ever Olympic team gold medal.
Ten years ago: Pope John Paul II urged President George W. Bush in their first meeting, held at Castel Gandolfo, Italy, to bar creation of human embryos for medical research. Indonesia's national assembly ousted President Abdurahman Wahid, electing Megawati Sukarnoputri (meh-gah-WAH'-tee soo-kahr-noh-POOT'-rih) as head of state. Negotiators from 178 nations rescued the 1997 Kyoto Protocol after marathon talks in Bonn, Germany. Pulitzer Prize-winning writer Eudora Welty died in Jackson, Miss., at age 92.