St. John's Lutheran was a cool place Saturday night

Send a link to a friend
[July 25, 2011] HARTSBURG -- An ice cream social at St. John's Lutheran Church in Hartsburg on Saturday night attracted over 50 people to an evening of toe-tapping music and an old-fashioned good time. Music provided by the Central Illinois Banjo Club included the "Tennessee Waltz," "Sweet Georgia Brown," "Four-Leaf Clover," the classic riverboat tune "Robert E. Lee" and numerous other favorites in the hourlong program. After the show, the audience gathered in the church basement for ice cream, homemade cookies and leisurely conversation.
"Our first ice cream social was last year, as part of the church's 125th anniversary," said coordinator Sonja Tillman, "but it went over pretty well, and we decided to do it again this year."
Church ladies baked cookies to go along with the ice cream, and the recent weather pattern encouraged people to come in out of the heat to enjoy the program.
The Central Illinois Banjo Club members hail from Hanna City, Morton, Delavan, Bloomington, Peoria, Congerville and other area communities. Despite the name, there are other instruments in the band -- including but not limited to mandolin, clarinet, tuba, keyboard, saxophone, guitar, bass and fiddle -- as well as banjos.
The group practices from 7 to 9 p.m. the second and fourth Wednesday of each month at the Knights of Columbus Hall, 616 W. David in Morton. Practices are open to the public. New members -- no age restrictions -- are welcome to join the volunteer band. For bookings and general information, contact Kathy at 309-265-2518. Go to www.cilbanjo.org for upcoming events.
CDs of the Central Illinois Banjo Club's music may be purchased for $10 at practice, performances or by calling the above number. Proceeds from sales are used to distribute baritone ukuleles to third- and fourth-grade students across central Illinois. Teachers are given preliminary information and a handbook to accompany the instruments.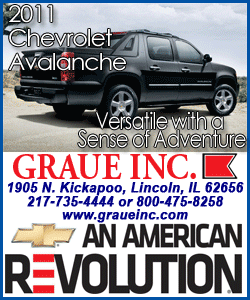 Baritone ukuleles are bigger than average, but not as large as a guitar, so they are more manageable for young students. Max Illman, banjo player and one of the lead singers, explained the band's intent is to encourage children to play music.
"If they have fun and learn the instrument, they may stick with it, but they may move on to another instrument," Illman said. "Learning to make music is always a good thing, and that's what we want to see, is for them to learn to love it."
[By MARLA BLAIR]