Accident
July 27, 1 p.m.
Location: North Kickapoo at Omaha
Drivers and vehicles:
Richardson, Katelyn M., 19; 2002 Buick Regal LS

Glenn, Michael B., 44; 2002 Ford F350 service truck, owned by Ameren Cilco
Citations issued to: no one
Lincoln Police Department
Williams, Delmar A., 30, Greenview, arrested July 27 in the 1100 block of North State Street on charge of criminal trespass to property.
Logan County Sheriff's Department
Campbell, Richard W., 47, Hartsburg, arrested July 27 at his residence on charges of aggravated domestic battery and interfering with the reporting of domestic violence.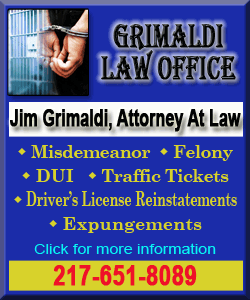 Atlanta, Mount Pulaski, San Jose, Illinois Department of Natural Resources, Illinois State Police
No arrest reports.
___
The public is reminded that anyone is presumed innocent until charges are proven in a court of law.
[LDN]
Other recent police reports