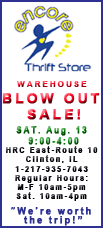 Included in the night of activities is the monthly Lincoln/Logan County Chamber Business After Hours, when area chamber members are invited to come together for a time of visiting and enjoying a few good snacks.

But for this occasion there is a great deal more involved, and according to Kathy Vinyard -- who works in City Hall for Mayor Keith Snyder and John Lebegue, building and safety manager -- the event is open to the general public, with the hopes that many local residents will stop in.

In addition to live music and food prepared and served by the Owl's Roost of Lincoln, there will be an art show throughout the building.

Vinyard said several artists are already signed up to bring their work, and there are a few she is still waiting to hear from but hopes will join in the show as well.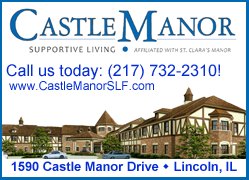 Among the local artists currently promising to set up displays are Kerry Rolewicz, Michelle McFadden, Jason Hoffman, Renee Sisk, Eric Burton, Toby Prang and Ruth Fredericks.
Vinyard said the art on display will not be limited to paintings and wall hangings, as some of the artists will bring their sculpture work as well.
In addition, the evening will include a tour of the City Hall offices and the upstairs meeting chamber. Vinyard said that Snyder has expressed that he wants people in the community to get a feel for what is in the building and what goes on in the building.
The fire department is also planning some special activities.
For those who have never been to the second floor of City Hall, they might be surprised to see all the items pertaining to the history of the Lincoln Fire Department that are displayed in the upstairs hallway.
There are stunning prints hanging on the walls, pictures from historical fires in the community, as well as firefighters and equipment taking up one wall, along with an account of the world record-holding horse team, Barney and Bill.
There are also antique lanterns, an ornate antique megaphone that would have been used for announcements during special ceremonies, a wall of rope showing various notes used in firefighting efforts, and a memorial to firefighter Austin Bahn.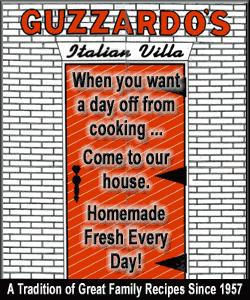 In addition, Vinyard said that fire Chief Mark Miller has found some new "old pictures" from the earlier days of the department and is preparing to have those on display.
Recently the department had professional photos taken of the entire crew together, and those, too, should be available for viewing.
The area downstairs in the building, where the fire bays are, will be opened to the public as well. In recent weeks, the department won a grant that enabled them to place some new safety coatings on the floors in the bay area, and Miller wants everyone to see that.
In addition to all this, the mayor as well as various aldermen, city staff and department heads will be in attendance throughout the evening to chat with guests and talk about who they are and what they do for the city of Lincoln.
Vinyard said she is hoping that a large number of area residents will take this opportunity to come in to City Hall, get to know a few folks, enjoy some good music, good food and of course, take in the beautiful artwork that will be on display.
[By NILA SMITH]