Blood drive, pool parties at park district and Democrats speaking make Close Up
By Mike Fak

Send a link to a friend

[July 26, 2011] To help ensure an adequate blood supply for our region, Lincoln Christian Church is sponsoring a blood drive at the Lincoln Masonic Center, 2022 N. Kickapoo, on Monday, Aug. 1. The hours of the blood drive are noon to 6 p.m. For your convenience, please call Jessica to sign up toll-free at 1-866-GIVE-BLD (1-866-448-3253), ext. 118, or schedule an appointment online through www.cicbc.org or www.bloodcenterimpact.org. Walk-ins are also welcome and truly appreciated.
---

This is going to be a really busy week at the Lincoln Park District swimming pool. On Thursday, July 28, they are hosting a swim party sponsored by the Alcohol, Tobacco and Other Drugs Task Force, a member of Healthy Communities Partnership. There is no charge to swim and the task force will also offer refreshments. The hours are between 7 and 9 p.m. This is a substance-free event to improve the health and quality of life of the people and communities of the service area.
On Sunday it is a Jimmy Buffett-themed pool party. Join the fun on July 31 from 1 to 5:30 p.m. There will be prizes for the best Parrot Head costume, a limbo contest and tons of games. Of course it wouldn't be a Buffett party without a cheeseburger to munch on! Come out and party at the park district. A $5 fee pays for admission, fun and food.
During the Logan County Fair, Aug. 2-7, bring your fair ticket or wristband to the pool desk and get into the pool for only $1. Lincoln Park District will also be at the fair in the evenings. Stop by and check them out.
---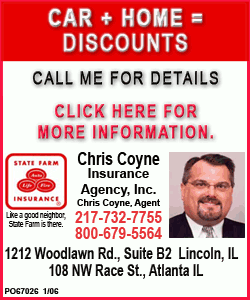 U.S. Sen. Richard Durbin and Jill Morganthaler, co-chair of the Illinois Democratic Women, will be at the Lincoln Knights of Columbus, 217 N. Limit, on Friday, July 29. The times are 5 to 8 p.m. with speakers at 6:30.
---