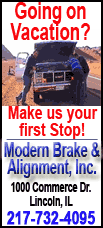 Rutherford told reporters Friday that he's now holding twice-daily meetings with investment teams to gauge how to respond if the ceiling's not raised and federal bond ratings are downgraded. If that happens, Rutherford says there's likely to be an impact on Illinois's own ratings, pushing them down as well.
He says his top priority is making sure $7 billion in state investments would be safe amid financial turmoil.
Rutherford says that could mean putting those billions into accounts that are insured but offer no interest. That could cost the state millions of dollars a month in lost interest payments.
Copyright 2011 The Associated Press. All rights reserved. This material may not be published, broadcast, rewritten or redistributed.