United Methodist mission trip fundraiser, First Presbyterian Church Joyce Kinzie blood drive, HSLC accepting volunteers, Mobile Food Pantry June 9, LCHS freshman orientation and WL-B honor roll in Close Up

By Mike Fak

Send a link to a friend
[June 01, 2011] The Young United Methodist Men, or YUMM, of the Lincoln First United Methodist Church will have a garage sale on Saturday, June 4, at the Lincoln/Logan Food Pantry garage, 125 Logan St., beginning at 8 a.m. The Leah-Mary Circle will sponsor a bake sale. Proceeds will go toward a Kentucky mission trip in 2012.
---

To help ensure an adequate blood supply for our region, First Presbyterian Church is sponsoring a blood drive Monday, June 6, at the Lincoln Masonic Center, 2022 N. Kickapoo, in memory of Joyce Kinzie. The hours of the blood drive are noon to 6 p.m. For your convenience, please call Jessica to sign up toll-free at 1-866-GIVE-BLD, ext. 118, or schedule an appointment online at www.cicbc.org. Walk-ins are also welcome and truly appreciated.
---

The successful operation of the Humane Society of Logan County shelter going forward will depend on the dedication and willingness of volunteers. They will need your help every day of the year. Caring for abandoned, abused and neglected dogs and cats is a huge responsibility. HSLC is counting on those of you who expressed a desire to volunteer at the shelter. The board of directors will host an open house for volunteers and members on Saturday, June 18, from 11 a.m. to 2 p.m. at the HSLC Shelter, 1801 E. Lincoln Parkway. Please join them for a sneak peek at the facility. If you are unable to attend and want to volunteer, please call 217-737-4042 or email info@hslclincoln.org. Volunteer training will begin by the end of June.
Now is the time to start thinking about what your "dream volunteer" job will be when the shelter opens. Every task from cleaning cages to answering the phone will be available. Please email info@hslclincoln.org or call 217-737-4042 and let HSLC know how you can help.
---

The Lincoln/Logan Food Pantry will host another Central Illinois Foodbank Mobile Food Pantry on Thursday, June 9, at 6 p.m. As with the one last month, all are invited to come. All the people need to do is sign in with their name and the number in their family. The mobile pantry will be open rain or shine until all the food is gone.
---

Lincoln Community High School will have freshman orientation for the Class of 2015 on Thursday, Aug. 11, from 10 a.m. until noon. Incoming students and their parents will learn important information about the upcoming school year, meet coaches and extracurricular staff, tour the building, and locate lockers and classrooms. A light lunch will be served in the cafeteria as well. All students in the LCHS Class of 2015 are invited and encouraged to attend.
---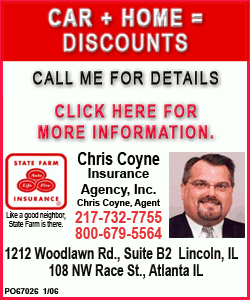 West Lincoln-Broadwell honor roll -- fourth nine weeks:
Fifth grade:
High honors -- Tabitha Cooley, Abbie Crowell, Jack Eimer, Kaelyn Froebe, Bryan Hay, Autumn Hoffert, Blake Jones, Morgan Lolling, Carter McCraith, Amber Oliver, Emerie Wieber, Ali Wilson
Honors -- Kylee Alexander, Nathan Camel, Joy Chi, Haley Hicks, Kennedy Lolling, Jacob McCray, Smruti Patel, Will Tiffany
Sixth grade:
High honors -- Preston Ebelherr, Megan Joseph, Grace Konczyk, Jacob Konczyk, Brianna Lanning, Isabelle Stiefvater
Honors -- Morgan Bogdanic, Casey Mollohan, Zac Montcalm
Seventh grade:
High honors -- Kathryn Benner, Kaylyn Hoffert, Adrienne Klockenga, Garrett Schreiner
Honors -- Jeris Bender, David Biggs, Brycen Hicks, Brook Soebbing, Chase Turner
Eighth grade:
High honors -- Leah Anderson, Tara Bradley, Adam Conrady, Samantha Cooley, Andrew Coop, Levi Curry, Payton Ebelherr, Kyle Fitzpatrick, Kylie Fitzsimmons, Preston Marten, Lexi Morris, Betsy Olson
Honors -- Brock Byrge, Jordan Yarcho