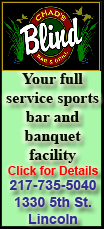 Early this year, he happened to be out and about in downtown Lincoln when he came across a young man bicycling around the country, and last week, he found himself in a similar situation with a young man who was at mile 1,000 of a more than 3,000-mile trek across America.

"I was here at the store," said Matson, who is the vice president and manager of Action Rentals and Sales. "It was pouring down rain, and I decided to run down to Hallie's and get lunch. When I stepped outside there was a whole crowd of people standing under the awning, some of them with bikes and two on foot."

Matson went on to explain that the group on bikes had taken the Amtrak to Springfield with their bikes and were now biking back north. The other two were Jon Beeby and his trainer, Mike Fields. Beeby had just completed his 1,000th mile on a trek across the country which had begun in New York City.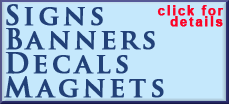 Matson invited the young men in, out of the rain, and proceeded to share with them all the wonders of the city of Lincoln. He said he gave them Main Street Lincoln Christmas ornaments depicting the first Lincoln courthouse, a copy of the book on Lincoln written by Paul Beaver, and postcards of the Postville Courthouse and other sites around town.
Beeby is walking, accompanied by an RV. At the time Matson was meeting up with the two travelers, the RV was at some other unknown location. Matson said he decided to take the guys to lunch at Hallie's and spend some time showing them around while they waited on the RV to catch up to them.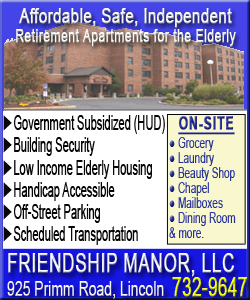 Matson treated them both to a schnitzel, which was a first for them, then took them to the Lincoln city christening site at the train depot. They also came across attorney Warren Peters and his family and stopped to chat a bit with them.
When the rain stopped for a moment, the guys dashed across the street to the courthouse lawn and had their picture taken with the new Civil War soldier statue.
When the RV arrived to pick up Beeby and Fields, Matson wished them well and invited them to come back and stay a few days anytime.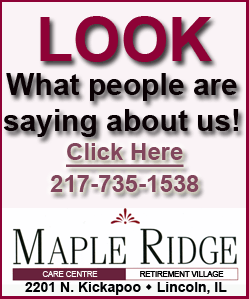 After leaving Lincoln, Beeby proceeded on foot to Springfield. Later that night, he posted on his blog pictures and comments about his stop in Logan County. The blog includes a picture of him standing with Atlanta's hot dog-holding lumberjack and a picture of Hallie's.
He also spoke highly of Matson, calling him a legend. "He stands at about 6 foot and has a cracking moustache. He literally made Mike and I forget it was raining. He is by far the most interested and interesting person I have met on this trip," Beeby wrote.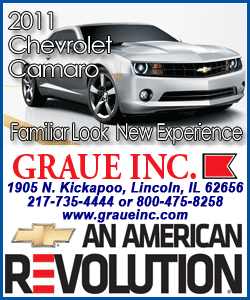 LDN caught up with Beeby this week via email, and he said that he had found Lincoln to be a very nice stop on his journey.
Beeby is British, now living in the U.S. He spent some time in the United Kingdom training before he began his walk but chose to make the trek across America because he has a keen interest in history and in Route 66. He mapped his route from New York to Chicago, where he could step on the Mother Road and follow her all the way to the West Coast.
"I chose America because I love the country," Beeby wrote. "Although young it has a wealth of history, and history that appeals to me. Route 66 is amazing and I hope to come and really live it by stopping and experiencing every town and learning more about places like Lincoln."
In addition to having experiences such as what he found in Lincoln with Matson, Beeby is also walking for a cause.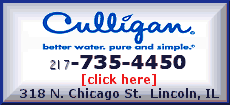 His walk is raising money for the Tag Rugby Trust, which currently works with orphanages and government schools in India, Uganda, Kenya, Mexico and Romania, using the game of tag rugby to help children who are living in high-risk situations.
In his email, Beeby spoke candidly on his choice of charity: "I think I chose the charity, because I want to help people who happen to be less fortunate than me. Also the charity is very positive. It appeals to me as all their photos are of people having fun. That means a lot. A sob story although emotive makes me feel as I am being emotionally blackmailed."
Having both played and coached rugby, Beeby also speaks in his blog about the positive effect being part of a sport can have on a child.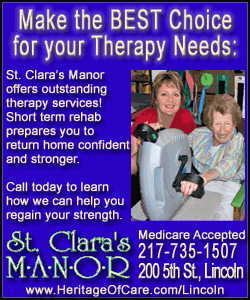 Beeby also has several corporate sponsors behind his journey, including Remington King of Shaves.
Matson said on Friday that he had heard from Beeby via email, and Beeby would like for Matson to gather a group on the courthouse square and do a short video of everyone saying hello from Lincoln. Beeby has told Matson that he will get the video placed on a sponsor's website, where it can be viewed as part of Beeby's trek across the country.
Matson said he was working on trying to get that accomplished sometime within the next week.
If you are interested in finding out more about Jon Beeby and his walk to the West Coast, visit his blog, "A Step Too Far?" at http://www.steptoofar.com/.
[By NILA SMITH]
Past related article