Funny Business 101

Come learn about the world of one of the most unusual occupations -- syndicated cartooning. Tour guide and adviser for the class is Julie Larson, a Lincoln native. She is a nationally syndicated cartoonist and creator of The Dinette Set. Ms. Larson has been in the "funny business" since 1989, becoming nationally syndicated in 1997.

She will share creative development of your comic ideas, the artistic and mechanical individual drawing process and style. Character development and dialogue along with an introduction to the business of writing and drawing a daily and Sunday cartoon will be covered. Drawing materials will be provided and kept by the participants. Aspiring cartoonists must bring their own imaginations!

Ages:

Entering sixth grade and up
Dates: June 13-15
Time: 9-11 a.m.
Fee: $45/$54

Nathan Turner Memorial Fishing Clinic & Derby

Nathan Turner, a former city council member and resident of Lincoln, was an avid fisherman and outdoorsman. He grew up attending the Lincoln Park District Fishing Derby and cared deeply about passing on his love of fishing and the outdoors to other children. His family wanted to support the fishing derby to keep his memory alive and spread his love of fishing and the outdoors. He is survived by his wife, Sarah; his son, Benjamin; his parents, Dan and Nancy; his sisters, Janell and Nanette; and many other loving family members.

The FREE fishing derby is hosted by the Hickory Lane Campground near Atlanta. In the past, the pond has been stocked just days before the event. Prizes will be awarded in several different categories in this competitive but fun event. The Lincoln Police Department D.A.R.E program will co-sponsor the free derby. Chief Ken Greenslate will be on hand cooking hot dogs and providing sodas to the fishermen and their families. Parental approval is a must and parents are encouraged to attend. Join us Saturday, June 11, from 9 a.m. to noon. Ages 4-15 will be represented.

Summer Golf Camp

Lincoln Park District will host its 11th annual Summer Golf Camp. Golfers of all skill levels are encouraged to sign up early due to the growth and popularity of this program. The park district is pleased to welcome back Doug Dean, a lead instructor and Class A member of the PGA of America. He has played professionally on various mini-tours. With more than 20 years of experience, he has taught U.S. Senior Open qualifiers, U.S. Women's Open qualifiers and collegiate players at top universities. He has also been involved in Hook a Kid on Golf, a program designed to introduce the game to young players.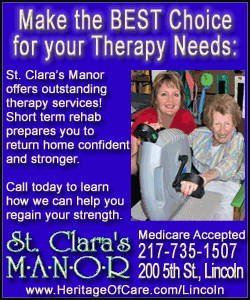 Monday through Thursday sessions will focus on all aspects of the game. Grip, stance and posture will be covered. Players will be instructed on approach and tee shots, short game, putting, and chipping. Course management, golf etiquette and basic rules of the game will also be discussed. Friday will find the group at Four Willows Golf Course in Mason City, where participants will enjoy nine holes of golf. Dean will be on the course, where he will continue offering instruction and share his passion and knowledge of the game with his students. Golfers will have the option of selecting either session time. Lunch will be provided.
Ages: 9-adult
Dates: June 20-24
Time: 8-10 a.m., 10:15 a.m.-12:15 p.m.
Fee: $80/$90
Location: Driving range
Putting On a Play
Have some excitement this summer Putting On a Play. Learn how plays are staged, rehearsed and performed. The camp will end with your very own play production on Friday afternoon. Thespians will learn how to adapt stories to be performed for audiences, as well as how to create costumes, makeup and sets. Learn acting techniques and have fun doing it! No theater experience is necessary. All you need is a great attitude and a willingness to learn. Bring your sack lunch, swimsuit and towel for a fun break at the pool. Family and friends are invited on Friday to see the production.
The camp will be led by Cody Follis, a recent graduate of Lincoln College. He has been active in theater since his first show at Lincoln Junior High School, continuing through high school and college. At the college level, he has worked both onstage and off, participated in various theater workshops and courses, and gained valuable experience along the way. He is happy to be given the opportunity to help expose a new generation of area youth to an activity that builds self-esteem and confidence and is just downright fun! Theater is food for the imagination.
Ages: 9 and up
Dates: June 20-25
Time: 9 a.m.-4 p.m.
Fee: $75/$90
Location: Administration Building Craft Room
[Text from file received from Roy Logan, Lincoln Park District]