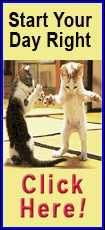 The dearth of reporting comes despite an abundance of news outlets in today's multimedia landscape, the report says.
The report being released Thursday by the Federal Communications Commission is the product of an 18-month effort to explore the turmoil sweeping the traditional media business in the U.S. -- particularly daily newspapers.
Newspapers have seen a sharp drop in revenue because of the weakening economy and a shift by advertisers to free or cheaper alternatives on the Internet. That has forced newspapers to cut staff and shrink their publications. The report says staffing levels at daily newspapers have fallen by more than 25 percent since 2001.
"A shortage of reporting manifests itself in invisible ways: stories not written, scandals not exposed, government waste not discovered, health dangers not identified in time, local elections involving candidates about whom we know little," the report says.
The report's recommendations include creating public affairs cable channels similar to C-SPAN at the state level, easing tax rules for nonprofit news organizations and directing more federal advertising spending to local news media.
But the FCC report also makes clear that the First Amendment limits the government's role in shaping the future of the media industry.
"Government is not the main player in this drama," it says.
The report's lead author, Steve Waldman, said the study found media variety and abundance. Broadcast outlets, cable networks, nonprofit websites and other media ventures are offering consumers more news choices than ever.