There will be a dinner for survivors and their caregivers at 4:30 p.m. in the old gym, where they will be honored with special music by The Lincoln Strings. Survivors are asked to come early to register and receive their shirts, pins and medallions.

The survivors will take the first walk around the track and have their caregivers join them.

There will be a silent auction and also a live auction with luminarias at 9 p.m. Luminaria bags can be purchased that evening up to the time of lighting.

There will be entertainment throughout the night, with special guest judging tents and guest speakers. Different foods will be for sale at tents representing the countries around the world.

Cancer never sleeps around the world and neither will the Relay for Life that night to fight back for a cure so others can celebrate another birthday.

Come join Relay for Life members for an emotional journey as survivors take their walk and honor those who are have won the battle, those who continue to fight the battle and loved ones lost to this terrible disease

For more information, please contact co-chairs Jeff and Maritta Robinson at 217-671-2309, mrrelay4life@yahoo.com or jrrelay4life@yahoo.com.
---

Mount Pulaski Grade School eighth-grade academic awards:
All A's in Art: Claudia Knight and Haley Vaughan
Top Art Student of 2011: Claudia Knight
All A's in Math: Julia Beccue and Blake Collier
Math Student of the Year: Julia Beccue
All A's in Reading: Julia Beccue, Alec Hayes, Maggie Olson, Haley Vaughan and Ashton Wakeman
Reading Award: Julia Beccue
All A's in Language Arts: Julia Beccue, Alec Hayes, Maggie Olson and Haley Vaughan
Writing Award: Alec Hayes and Andrew Moody
All A's in Science: Julia Beccue, Alec Hayes, Maggie Olson and Haley Vaughan
Outstanding Science Student: Julia Beccue
Science Fair awards:
Third place: "Thermo-Berries," by Samantha McCarty and Jessica Smith; "Wii Got Balance," by Alec Hayes and Caroline Huff
Second place: "Hairspray," by Haley DeRight and Haley Vaughan
First place: "Soaring Soda," by Clayton Lindley and Nick Raineri
All A's in Social Studies: Julia Beccue, Alec Hayes, Claudia Knight, Andrew Moody, Maggie Olson, Nick Raineri and Haley Vaughan
Seth Remmert Award: Julia Beccue
Daughters of the American Revolution Award: Alec Hayes
Behrens Award for Outstanding Achievement in Technology: Andrew Moody
Director's Choir Award: Molly Williams
Director's Band Award: Andrew Moody
H.J. Wible Award for Music: Julia Beccue
President's Education Award: Julia Beccue, Blake Collier, Alec Hayes, Claudia Knight, Andrew Moody, Maggie Olson and Haley Vaughan
---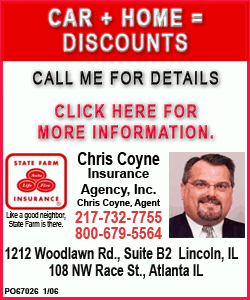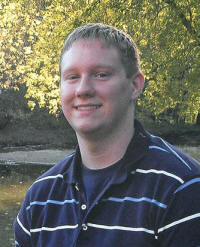 Ethan Cline has been named valedictorian of the Class of 2011 at Mount Pulaski High School. Ethan is the son of Rich and Tina Shiers of Mount Pulaski.
Ethan has been a four-year member of band, student council and Scholastic Bowl. He is a National Honor Society member and participates in Science Olympiad and Spirit Squad.
He has won numerous high school awards, including Outstanding Accounting II Student, Outstanding Chemistry Student, Outstanding Advanced Chemistry Student, Senior Spanish Award, Physical Education Student-of-the-Year, National Choral Award, Choral Director Award, Outstanding Anatomy and Physiology Student and Senior Science Award. He was awarded a Mount Pulaski Education Association Scholarship and the Lester L. Werntz Music Scholarship. He has been named an Illinois State Scholar.
He has served as a youth group leader at Grace Baptist Church in Decatur and has been a member of his church band and choir, as well as the community band.
Ethan plans to attend Pensacola Christian College in Pensacola, Fla., to major in computer programming and software engineering.
---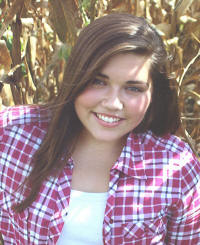 Hannah Allen has been named salutatorian of the Class of 2011 at Mount Pulaski High School. Hannah is the daughter of Ralph and Lori Allen of Mount Pulaski.
Hannah has been active in the Mount Pulaski High School FFA, where she served last year as chapter reporter and earned her State FFA Degree in June of 2010. She was co-president of National Honor Society and vice president of student council. She participated on the WYSE team, the Science Olympiad team and served as president of Spanish Club. She was also a member of Drama Club and Spirit Squad, as well as a three-year member of the Toppers volleyball team.
She received the DAR Good Citizen Award and the Senior Science Award. She has been awarded a Jonathan Baldwin Turner Scholarship at the University of Illinois and has been selected as a Monsanto Commitment to Agriculture scholarship winner. She was also awarded the Farm Credit Services Scholarship, a Mount Pulaski Rotary Scholarship, an FFA Alumni Scholarship and the Shelter Insurance Scholarship. She is an Illinois State Scholar and was named a Prairie State Achievement Scholar in mathematics.
She was selected as a delegate to Illini Girls State and as a delegate to the Association of Illinois Electric Cooperatives Youth Day. She participated in a group workcamp for two years and was involved through her church as worship band keyboardist and vocalist. She also volunteered as assistant volleyball coach at Zion Lutheran School in Mount Pulaski.
Hannah plans to attend the University of Illinois in the College of Agriculture, Consumer and Environmental Sciences to pursue a career in food science.
---