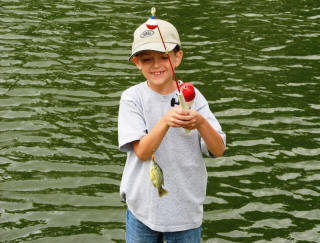 1st year of Nathan Turner Memorial Fishing Derby

Send a link to a friend
[June 13, 2011] For 15 years the D.A.R.E. program has hosted a fishing derby for area children, a much-anticipated event that encourages healthy outdoor fun and family-oriented activity. This year, the name was changed to reflect a young man's attraction to the sport of fishing and to create part of his legacy. A family's wish to promote their loved one's favorite sport has partnered with the annual event, newly named the Nathan Turner Memorial Fishing Derby.
Nathan Turner was 29 years old when he suddenly died on Feb. 7, 2010. He was Lincoln's youngest city council member and an optimistic, ambitious young man, willing to step up and help out.

To commemorate his love of the sport of fishing, his wife, Sarah Chase Turner, and his parents, Dan and Nancy Turner, asked to be part of the annual D.A.R.E. program fishing derby. They attended the event on Saturday at Hickory Lane Campground, south of Atlanta.

"Nathan enjoyed fishing and just to be outside," Sarah Turner said. "He liked to be away from the stress of life, sometimes. You know, life can get hectic, and it is good to find a something that allows you to step away and do something you enjoy. That is what fishing was to Nathan."

"Nathan liked fishing," Nancy Turner reflected, "and he was in the D.A.R.E. fishing derby until he was too old to participate. Then he went on his own.

"We wanted to help promote something that meant a lot to him," Nancy continued, "and since this was always such a fun thing for him to attend; we decided it should receive our support."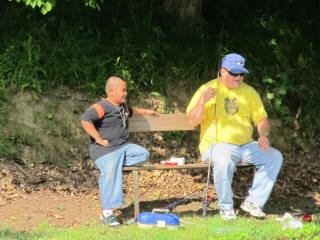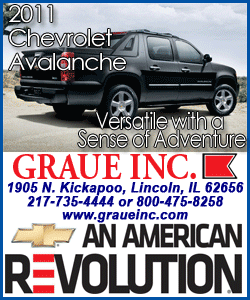 Ken Greenslate, Lincoln police chief and D.A.R.E. program coordinator, has sponsored the fishing derby since 2001. Lincoln Park District hosts the event.
Children ages 4 to 15 fished from 9 to 11 a.m. A picnic lunch was served after the derby. Prizes were given for the biggest and smallest fish and for the most fish caught.
Registration was not required for the annual fishing event, so there was no official head count, but Katy Goodman, co-owner of Hickory Lane, was excited about the turnout. The campground and adjoining fishing ponds have been owned and operated by Katy and Walter Goodman.
"This is just like old times," Katy said. "I wish every weekend was like this. In the old days, we had campers and families stay all weekend, and people would fish, the kids would run around. This is just great. Everybody's having such a good time."
[By MARLA BLAIR]