It was 2:30 in the afternoon and chamber executive director Andi Hake sat in the conference room eating a takeout lunch.

She was in good spirits as just another busy day at the chamber had her schedule out of order -- again.

Hake took the time between bites to talk about the major changeover in personnel at the office.

Just over two months ago, Ally Leesman, the membership services director, left, and then last month, Heidi Browne, the events coordinator, also left for another job.

That meant bringing in new people and getting them up to speed with a golf outing imminent and another art and balloon fest rapidly approaching.
Although Hake said that the previous group, along with office manager Robin Keys, got along famously, the new group is jelling quickly, and they have to, as busy as the chamber year is.
"We were like a family," said Hake, talking about the old group. "Heidi was the mom, Ally was the young girl, and Robin gave us the balance we needed in the office."
Andi and Heidi were friends before Andi hired her, and although the director was saddened to see Heidi leave the chamber, it isn't a personal loss. "I lost an employee, but I got my friend back," Andi said with a smile.
Things were a little hectic for this year's annual golf outing. Kelsey Nye had only a month on the job, and Rachel Smith didn't start until the day of the event. Keys said the new summer office assistant, Jennifer Lovett, did an excellent job of helping get all the logistics for the day handled.
To be sure, the old group had an office dynamic that was visitor-friendly, very competent, and it was apparent they all got along with each other. It appears that all the new employees are creating their own office personality, and although they are different people, they are doing well, getting along and creating a new, friendly, outgoing, enthused-to-get-the-job-done atmosphere.
Rachel Smith, the new events coordinator, grew up in Lanark before attending Illinois State University. Among her jobs were four years as a math teacher and 21 months in the Peace Corps in Macedonia.
Smith has solid credentials, including a master's degree in applied economics with a focus on community development. Those qualifications make her a good choice to manage all the logistics of the huge art and balloon fest. She admits the one thing she doesn't have for managing our signature event is experience, and that can be a little intimidating unless you enjoy challenges like she does. Rachel says she is really enjoying getting to know members who have important roles in the balloon fest.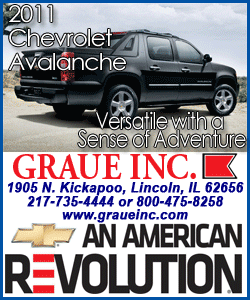 Kelsey Nye, the new member services director, attended Millikin University, majoring in communications as well as taking dancing and writing. She spent a semester with Disney Entertainment at Disney World and played many characters during her seven months in Orlando. Kelsey said she loved that experience and enjoys meeting new people, which is a constant for a "newbie" at the chamber office. A graduate of Illini Central in Mason City, she's going to marry Eric Horn of Lincoln in July at Wildlife Prairie Park.
Jennifer Lovett will be on the job as summer office assistant until the art and balloon fest is over. She knows her days are limited, but she knows the experience she is getting will help when her duties at the chamber are over. A business administration major at LCU, Jennifer wants to stay in administrative assistant work and would be delighted to find such a job in Lincoln.
With the new help all learning, maybe it wasn't the perfect time to bring in an entire new computer system, but that also was on the agenda of the chamber staff last week.
All in all, according to the pragmatic Robin Keys, everyone is doing well. "Better than I expected," she admitted.
All three of the new staff members said that meeting new people was one of the things they enjoyed most, and that is an essential quality for those at the chamber office to have.
Hake seems to also be pleased with how the new staff is acclimating. When asked what she would put at the top of her wish list for the chamber, nothing was said about staff having more experience. "We could use a new Melon Truck to replace the Melon Car, which is no longer reliable," she laughed.
Maybe the Melon Car is having trouble running, but the new staff at the chamber seems to be headed toward running on all cylinders. Of course, they have to. That's what the chamber staff does: the old and now the new.
[By MIKE FAK]