Lincoln Youth Football, Knights of Columbus, Gov. Oglesby exhibit, dental clinic, Kailey Wilmarth benefit, Savanna Freehill benefit and Mount Pulaski waste pickup make Close Up

By Mike Fak

Send a link to a friend
[March 25, 2011] A breakfast to benefit Lincoln Youth Football is this Sunday, March 27, at the American Legion Post 263 from 8 a.m. to noon. The breakfast, prepared by the Sons of the American Legion 263, will consist of bacon, ham, biscuits and gravy, eggs, potatoes, fruit, doughnuts, orange juice, coffee, and milk.
---

On Wednesdays during Lent the Lincoln Knights of Columbus offer soup nights at their hall. The meals are free with a donation of canned goods for the food pantry or a cash donation thankfully accepted. The times are 5-7 p.m.
---

A special exhibit sponsored by the Gov. Richard J. Oglesby Mansion is open to the public at the Lincoln Heritage Museum, 300 Keokuk St. Oglesby was a Logan County resident. The exhibit presents an examination of his life and his association with Abraham Lincoln and U.S. Grant. The dates are March 28-April 15. The hours are Monday-Friday 9 a.m.-4 p.m., Saturday 1-4 p.m.
---

The Logan County Department of Public Health has scheduled the opening of its new dental clinic for March 31. On March 29 there will be a ribbon-cutting with the chamber of commerce and an open house for the public between 5 and 6:30 p.m. at the health department.
---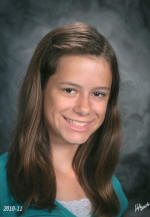 There will be a benefit April 16 at the Delavan United Methodist Church for Kailey Wilmarth. Kailey is 14 years old and the daughter of Gary and Shelli Zimmer Wilmarth of Chatham and the granddaughter of Bill and Janet Zimmer of Delavan. In September Kailey was diagnosed with acute lymphatic leukemia. She is currently undergoing chemotherapy treatments at St. John's Children's Hospital in Springfield and awaiting a bone marrow transplant. The transplant will take place at Children's Hospital of St. Louis, with her older brother Neil being the donor.
A dinner consisting of pulled pork sandwich, chips, baked beans and Texas brownie will be served from 4 to 7:30 p.m. for a donation. A Chinese auction will be going on at the same time, and a live auction will start at 7:30. Some of the items to be auctioned are a 32-inch flat-screen TV, handmade quilt, quilt rack, autographed IWU basketball, two tickets for a Cubs-Cardinals gamer July 29, various baskets with scrapbooking and quilting supplies, a Nook electronic reader, and two tickets to a Tim McGraw concert and night at the Embassy Suites May 13. A 50-50 drawing will follow the live auction.
More information about Kailey's journey is available at www.caringbridge.org/visit/kaileywilmarth.
To order your Kailey's Krew T-shirt or make a donation, contact Phil Sampen at 309-262-0476 or email psampen@yahoo.com.
---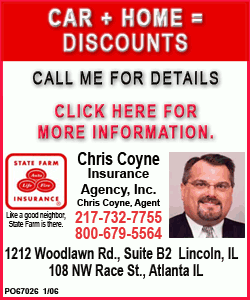 A benefit for Savanna Freehill, a teenage girl in Atlanta who has been diagnosed with Stage 4 glioblastoma, a brain cancer, will be at Chubby's Bar and Grill, 111 SE Vine in Atlanta, on June 18. The event will include a bag tournament, bands, lunch, 50-50 drawings, raffles, silent auction and a live auction. Several area businesses have already donated silent auction items. As the event draws closer, more details will be added.
Anyone wishing to become involved or to donate items can contact Leslie Geddart –Johnson at 217-737-3597 or Chubbys Bar & Grill (Leslie ) 217-648-2615.
---

The city of Mount Pulaski will remove landscape waste on July 11, Aug. 1, Sept. 12, Oct. 3, Nov. 7 and Dec. 5. The landscape waste to be picked up by the city needs to be placed in the area between the sidewalk and the edge of the street. If the weather is bad on the scheduled dates, then the city will pick up the material on the next day with good weather.
The city asks residents to follow these guidelines:
Have your landscape waste ready for pickup by 7 a.m. on the scheduled dates.

All small debris, grass, leaves, etc. must be in bags.

Do not place any material in the street or on the sidewalks. Place all material within six feet of the edge of the pavement.

Do not remove entire trees from your private property and place them for the city pickup. If you hire a contractor to remove your trees, have your contractor haul the material to the sewage treatment plant and place the material in the proper location.
---