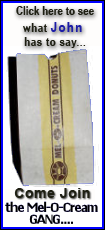 Rep. Michele Bachmann, a tea party favorite, got the noisiest reception when she told about 500 people gathered in Des Moines that voters are ready to overturn the federal health care law and oust President Barack Obama during next year's election.
"The ultimate arrogance, in my opinion, is Obama-care," the Minnesota congresswoman said. "That's why I am so absolutely confident in 2012. Americans have made the decision that we're going to take our country back."
Former House Speaker Newt Gingrich, Mississippi Gov. Haley Barbour and former Godfather's Pizza CEO Herman Cain also spoke during the event organized by Iowa Rep. Steve King, whose state is home to the nation's first presidential caucuses. The congressman said the gathering would help conservatives shape the debate as Republicans begin looking for a candidate to run against Obama.
"We need to take this nation to the next level of its destiny," King told the crowd. "You can shape that destiny."
Iowa's caucuses traditionally launch the presidential nominating season, and the sharply conservative rhetoric Saturday reflects an Iowa Republican Party that's drifted to the right. Polling last year showed more than 60 percent of GOP caucus-goers identified themselves as evangelicals.
Gingrich and Barbour insisted that most Americans agree with their conservative values. Gingrich said the 2012 election would provide a chance to end the "domination of the left and move this country back to the center-right."
Barbour dismissed suggestions that Obama has moved to the center in preparation for next year's election. He said the president's proposed budget "calls for spending to go up, it calls for the deficit to go up."
The governor also said Republicans can win next year if their candidates stay focused on key issues -- health care and balancing the federal budget -- without getting distracted by arguments about personality.
"What is important to us is to have a new president," Barbour said. "This election needs to be about policy."
That theme appeared to be in play Saturday. The speakers focused on criticizing Obama and Democrats, and made little effort to find differences with each other, though Gingrich did note that he "helped balance a budget for four straight years" while House speaker.