$500 winner, Linda Zurlinden;
ticket seller, Sally Aukamp

$250 winner, Gary Conrady;
ticket seller, Valerie Conrady

$150 winner, Bob Tubbs;
ticket seller, Laverne Berg

$100 winner, Tom Splain;
ticket seller, Jennifer Bailey
The June drawing will take place on June 11 at 2 p.m. at the Main Street Lincoln barbecue cook-off in downtown Lincoln.
The July drawing will take place on July 3 at the First Sunday Dinner at the Knights of Columbus Hall. Serving time for the dinner is 11 a.m.-1:30 p.m.
---

Walmart is hosting a bike rodeo and safety awareness event.
It has been rescheduled for Saturday, June 4
Time: 10 a.m.-2 p.m.
Where: Parking lot next to garden department at Walmart
---

A special church service at 10:30 a.m. Sunday, May 22, will highlight all the choirs of St. John United Church of Christ in Lincoln praising the Lord through music. The church's annual Music Festival features the Hand Bell Choir playing "Soon and Very Soon," a song given in memory of Lucinda Reifsteck and directed by Tonita Reifsteck. The other choirs featured will be the Chancel Choir, directed by the Rev. Richard Reinwald; the Adult Chime Choir and the Children's Chime Choir, both directed by Darlene Begolka; and the Angel Choir will sing a special selection under the direction of Donna Kessinger. Laura Lee will play the organ piece "Grand Procession," written by her for the church's 150th birthday in 2010. Everyone is invited to come and enjoy this special day of praising God through music.
---

The Lincoln Jaycees are sponsoring a fundraiser at Logan Lanes on Saturday, June 11, from 6 to 8 p.m. Fun for the whole family includes two hours of unlimited "cosmic" bowling -- with lights, music and fog -- and free shoe rental. There will also be a 50-50 raffle. Tickets are $10 each and can be purchased by contacting Chrystal Ballenger at 217-521-2483.
All proceeds go to Relay for Life of Logan County, which will be on June 17 at Lincoln College. The Lincoln Jaycees are participating as a team and committee volunteers. The Jaycees are a national partner with the American Cancer Society.
The Lincoln Jaycees are a not-for-profit organization serving Lincoln and the surrounding communities. The organization gives young people between the ages of 18 and 40 the tools they need to build the bridges of success for themselves in the areas of business development, management skills, individual training, community service and international connections. Membership meetings are the third Thursday of each month, 7 p.m., at the Lincoln Jaycees Center, 325 S. Chicago St., and are open to everyone.
---

Logan County and the American Cancer Society invite the public to join in the Relay for Life schedule of events, entertainment and luminaria service.
Start on Wednesday, June 15, by dining at Culver's between 10:30 a.m. and 10 p.m. Culver's will give 10 percent of that day's sales to Logan County's Relay for Life for research.
The 14th annual Relay for Life of Logan County will begin Friday, June 17, at 6 p.m. and continue until 6 a.m. Saturday, June 18, at the new Lincoln Center at Lincoln College, on Nicholson Road, off Ottawa Street.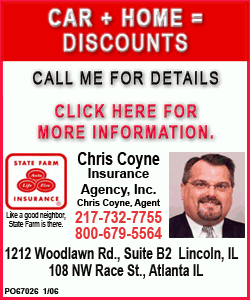 Whether or not a survivor has received a special notice and invitation, all survivors are invited to a reception and survivor buffet, compliments of John Guzzardo, starting at 4:30 p.m. Friday, June 17, in the old gym of Lincoln College, on Ottawa Street. The Lincoln Strings will entertain.
Survivors are encouraged to arrive early to register and receive their 2011 survivorship pin and, if a first-year survivor, to receive a Relay for Life medallion. Those who have a medallion are encouraged to wear it to the survivor buffet. Survivors will also be given a special survivor T-shirt, and survivor shirts of past years will also be available for those who missed getting theirs.
The welcome and opening ceremony will begin at 6 p.m. Following the opening ceremony, survivors will walk the survivor lap, which officially begins the Relay for Life. Then the caregivers will walk the next lap before everyone joins them.
The luminaria ceremony will be at 9 p.m. on Friday. Luminaria are available for $10 from any team member or at the event until the hour of the ceremony.
Entertainment and activities will continue throughout the night until 6 a.m. Saturday, which will also feature the final walk around the track.
This event is not just for survivors -- everyone is welcome to help make a reality out of this year's theme, "Fighting Cancer Around the World."
The organizers are looking forward to celebrating with you as together we work to make more birthday celebrations possible around the world with the cure of this disease. For more survivor information, please call Tonita Reifsteck, chair, at 732-9796 or 217-855-1645.
---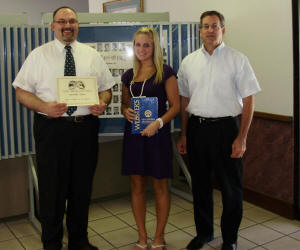 Illini Central Principal Ed Jodlowski, Lauren Lynn and Bob Werner, executive vice president of 1st State Bank of Mason City
The 1st State Bank of Mason City and Illini Central High School are pleased to present Lauren Lynn with the April Student of the Month Award. For demonstrating outstanding character, Lauren receives a $50 savings bond from 1st State Bank and a reference work appropriate to her course of study from the Illini Central High School faculty.
Lauren is the daughter of Chris and Julie Lynn. Her classes this year include Arts and Crafts, Journalism, Contemporary History, AP Chemistry and CNA studies through the LTEC program. Also, she is captain of the pom squad.
Lauren plans to attend Southern Illinois University at Edwardsville, where she will major in nursing.
---

The Humane Society of Logan County will be washing dogs on Saturday, May 21, from 10 a.m. until 1 p.m. at AutoZone, 1206 Woodlawn Road in Lincoln. Donations accepted for the wash. Dog nail-clipping available for an additional $7.
---