The morning meeting, hosted by Main Street director Wanda Lee Rohlfs and the organization's president, Roger Matson, kicked off at 8 with a breakfast catered by the Owl's Roost.
Rohlfs opened the meeting portion of the event with a welcome to all those in attendance and a few comments about the presence of small businesses in Lincoln and the importance of all small businesses.
Across the nation 99.7 percent of all employers are small businesses. They employ about 50 percent of the nation's workforce, including very highly skilled technical workers such as scientists and engineers.
Mayor Keith Snyder was introduced and asked if he would read aloud a resolution passed by the Lincoln City Council declaring the week of May 16 as National Small Business Week in Lincoln.
When Rohlfs took the podium, she commented on the theme of this year's celebration: "Empowering entrepreneurs while celebrating community."
Rohlfs said that in thinking of community, it drew her back to Lincoln Community High School. She said that as she looked around the downtown square, she saw many business owners and employees who graduated from the local high school.
She noted some went away to college, but they came back home to start their businesses.
"There is a reason for that," she said, "and I have to believe it is because we have a great community."
The Main Street organization is currently collecting information via a business survey. Rohlfs said the group sent out 200 survey sheets and so far has received 29 back.
Of the 29 they have so far, they have calculated the surveys represent 297 employees. Of those, 114 are graduates of LCHS.
Rohlfs said the last survey of employers in the downtown Lincoln area indicated there were over 600 people employed. Based on what she has seen so far of the survey that is under way now, she believes the number this year will be higher.
Rohlfs closed by drawing attention to a handout she had provided and information gathered by Dr. Bessie House, who is the president, founder and CEO of the National Center for Entrepreneurship Inc.
House notes that in every successful entrepreneur there will be several of the following traits: high self-esteem, frugality, determination, clarity of vision, creativity, salesmanship, risk-taking, effective management, passion and a strong work ethic.
Because the meeting was honoring businesses in the downtown area, Rohlfs said she would keep it short so employers and employees could get back to work at a reasonable time.
She then turned the floor over to Matson to present two achievement awards on behalf of Main Street Lincoln.
Matson first introduced Tom Harris Sr., an attorney at law. Harris is a 1941 graduate of LCHS and joined his father's law practice in 1949. He has been practicing law in the same location for over 62 years.
There to see Harris accept his plaque was his son Thomas Harris Jr., an attorney and now a judge, as well as his daughter, Julie Harris-Larson. Harris-Larson is also a well-recognized member of the Lincoln community as a cartoonist and creator of the nationally syndicated comic "The Dinette Set."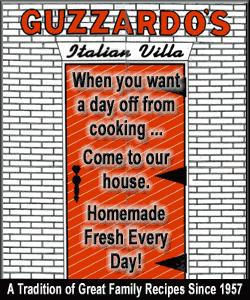 Harris commented: "When I started out in 1949, there were 15 or 20 lawyers in Lincoln. We all had offices on the second floor, and I'm still there."
Harris went on to say that he always believed it was fitting to have the attorneys on the second floor and save ground floor spaces for retail businesses.
The second person to receive recognition was John Guzzardo of Guzzardo's Italian Villa.
The restaurant was first opened by Dominic "Doc" Guzzardo and his wife, Rose, in 1947. John Guzzardo began working in the restaurant with his parents and later become the owner of the popular eatery. In total, Guzzardo has been serving the community with excellent food for 53 years.
Guzzardo was unable to attend the meeting, but his plaque was read aloud by Matson and will be delivered to him as soon as possible.
Matson also went around the room, naming names and acknowledging each person who had taken an hour out of their business day to spend with Main Street in celebrating Small Business Week in Lincoln.
Before wrapping up the morning events, Matson took the opportunity to share with the downtown business owners in the room that the new flower hangers will be mounted on downtown light posts, hopefully Monday and Tuesday of next week.
The hangers are designed of iron and feature two versions of an Abraham Lincoln profile, one with his stovepipe hat and one without.
The hangers were made by the industrial arts class at LCHS with help from Lincoln Iron &s Metal and support from Eaton Corp.
Matson said flowerpots have been prepared by the Logan County Master Gardeners, and volunteers will work to keep the plants watered and thriving throughout the summer.
[By NILA SMITH]