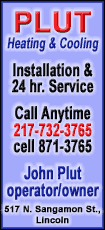 While that all sounds like a great way to start the summer, the national holiday and its origin has slowly been losing its intended purpose.

First called Decoration Day, the day was established after the Civil War to commemorate the lives of soldiers who died in service. The practice of decorating soldiers' graves on May 30 each year was continued with reverence following World War I and II.

Setting the day aside for remembrance is not only fitting, but it also strengthens us as individuals. When we have respect for those who in battle paid the ultimate sacrifice of life, it strengthens us as a country.

Logan County residents and visitors have the opportunity to put patriotic significance into their Memorial Day observance with any of several enjoyable activities scheduled that day.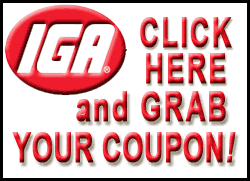 Starting at 10:30 a.m., American Legion Post 263 will host a time-honored traditional service with color guard and rifle squad ceremonies. Paul Beaver will be guest speaker. The 45-minute program will be followed by a ham and bean lunch. All activities will be at the American Legion located off Fifth Street, behind the bowling alley.
Moving this year's Airport Daze to Monday, May 30, Heritage In Flight Museum is taking a fresh approach with activities scheduled from noon to 9 p.m. at the Logan County Airport.
The day begins with the popular Young Eagles program: free airplane rides for kids ages 8-17 from noon to 2 p.m.
The afternoon program begins at 2 p.m. and includes the historical aspects of WWII, demonstrations, ceremonies and period songs led by Julie King accompanied by Eleanor Gunderson, as well as airport and aviation information and special presentations. Ceremonies honoring today's soldiers and veterans begin at 2:30 p.m.
Watch planes come in for a fly-in and drive-in barbecue fundraiser scheduled from 4 to 6 p.m. For just $5, have a delicious shredded barbecue pork sandwich, chips and the Springfield Civil Air Patrol will offer drink. Join the chow line, sit in the mess tent and eat side by side with war heroes, pilots, friends and neighbors.
Then stick around for the highlight of the day, Heritage In Flight's first finger-snapping, skirt-swishing, fast-stepping USO-style hangar dance. The dance sponsor, Chuck Holzwarth's Flying Service, is bringing in the fabulous Jim Markum Swing Band. The 11 musicians plan to blast the roof off the HIF hangar with the best music of the '40s and '50s from 6 to 9 p.m.
An authentic World War II warbird, the SNJ flown in by Clyde Zellers, will be available for viewing. Zellers will also accommodate the adventurous with paid rides: sightseeing for $150 and aerobatic for $300. What a great Father's Day gift this would make. Call 217-299-1799 to reserve a flight.
Other entertainment that adults might enjoy includes sashaying around the Railsplitter Antique Auto Club vintage vehicles as they roll onto the taxiway of the Logan County Airport.
Kids can learn more of what it would have been like to be a World War II soldier from re-enactor Arthur Avery as he demonstrates what went in a backpack.
Young or old, all will enjoy watching sometimes graceful swoops, other times edgy, fighter-like remote-controlled aircraft in flight.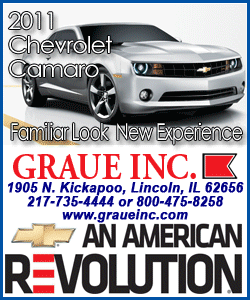 In addition to the museum, hangar and outdoor static line displays, a number of visitors will provide displays and information set up in tents. Subjects include veteran interests, aviation college education, military interests, health matters, tourist sites and more.
Reasonably priced food and refreshments will be available all day.
This year's Airport Daze sponsors also include the Abraham Lincoln Tourism Bureau of Logan County, Curt Fox, the Logan County Board and the American Legion.
Heritage In Flight invites you to come join them as they respectfully remember those who sacrificed their lives, as well as honor the soldiers and veterans attending the celebration.
All are welcome to this all-day free event. Bring a lawn chair and sit a spell, or stay all day and enjoy the Logan County Airport at its finest.
All these activities will be at the Heritage In Flight Museum and hangar at the Logan County Airport, 1351 Airport Road, Lincoln.
For more information, call 217-828-0650 or 217-732-7443.
Mount Pulaski events
Mount Pulaski will conduct three services on Memorial Day -- at Mount Pulaski Cemetery at 10 a.m.; Vonderlieth Living Center, 11 a.m.; and Steenbergen Cemetery, 11:30 a.m.
Beginning at 11:30 in the Mount Pulaski Legion Hall, there will be a luncheon provided by the Mount Pulaski 175th Committee for all Memorial Day participants and attendees. A free-will donation bucket will be available.
At 3 p.m., there will be a free Civil War instrumental music concert at the Mount Pulaski Courthouse bandstand.
[Text from news release from Heritage In Flight Museum and Abraham Lincoln Tourism Bureau of Logan County]