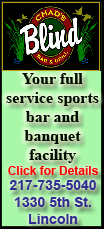 "All I've ever wanted to do was teach," Mrs. Cosby said. "It never was an issue to consider. I always knew this is what I would do."

Cathy went to schools in Lincoln. One of her favorite teachers was Elizabeth Humphrey at Northwest School. She also attended St. Mary's and Carroll Catholic, where a nun named Sister Bridget Ann "was the most caring and loving teacher you could ever have."

After elementary school she attended Lincoln Community High School and Illinois State University, where she obtained her bachelor's and master's degrees in elementary education.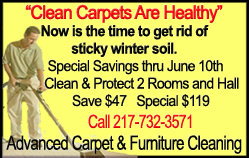 She began her teaching career in San Jose, where she was hired as the fifth-grade teacher and the second year was moved to the third-grade classroom. After marrying she left San Jose Elementary School, which has since closed.
After her youngest child was in school, Cathy returned to the classroom setting as the Writing to Read aide at Jefferson School and continued in that position for six years. When the second-grade teacher retired, she was hired to fill that position. One year she was asked to teach first-grade, and this, her final year, she was also needed in the first-grade classroom.
Cathy has enjoyed being an educator, but she has also spent time on extracurricular activities and special events. She and her husband, Steven, long ago assumed the responsibility of tending the garden in the Jefferson School yard.
In her spare time, Cathy really loves to antique. "I'm hoping to do a lot more of that," she said, "and now I can read more, and we plan to travel. I think I'll relax, too, after I finish some of the things I've wanted to get done." She does not plan to return to school as a substitute teacher.
Cathy's husband has been retired for three years. Steven was formerly the first-grade teacher at Adams School, and now he volunteers at the Postville Courthouse and Christian Nursing Home. Cathy is not sure if she will be a volunteer but expects to find plenty of things to do, now that retirement will allow more time.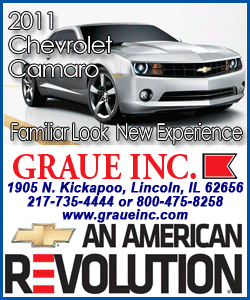 Their oldest son, James, is stationed at Fort Bragg, N.C. He is a member of the Illinois National Guard and is attending school to be a special forces medic. Their youngest son, John, is graduating from Elmhurst College with a double major in business and Spanish. With children going in different directions, the Cosbys expect to visit them and enjoy the change of scenery.
About her career of 28 years, Cathy said: "I am glad I got to teach when I did. Things are changing, and it isn't the same as when I started teaching. People that go into teaching now will be in a different world. It will not be the same environment and experience for new teachers coming into the profession.
"I taught with some very good teachers and under some good administrators -- both in San Jose and Lincoln," she said. "I was very fortunate and enjoyed my 28 years of teaching, partly because of the people in the school. I will miss them, but it's time to go and let someone else take over."
[By MARLA BLAIR]