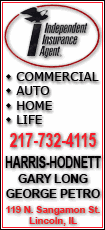 Thursday afternoon Wanda Lee Rohlfs, executive director of Main Street Lincoln, said much of the preparation for this weekend's downtown event had been completed, but there were still a few loose ends to be tied up.

The large Christmas tree that will stand on the courthouse lawn during the Christmas season had arrived, but at noon, wasn't quite ready to put up.

"There are always things you don't expect, like the Christmas lights for the tree. When we got them out, several of them didn't work, so we had to go get more," she explained.

But, these are the types of things that Rohlfs, over the years, has learned to take in stride, and she's confident that by Friday evening when Santa comes into town to light the tree, all will be well.
Rohlfs is thankful, though, that as the eleventh hour arrives, she has had a host of people helping get this event off the ground.
"I can't tell you how much Andy Anderson has done for us this year, and my own husband, Gene. They have really made a big difference," she said.
Rohlfs said they are just two of several who deserve to be recognized and thanked for all their help. The Santa hut, new this year, was donated by the Lincoln Lakes Condo Association. Sherwin-Williams donated paint for the hut, and the National Honor Society from the high school did the painting and decorating of the little building.
Mary Kelley has also pitched in to help, along with Jackie Baker, Judy Conzo, Gladys Dutz and Theresa Richert, who are regular Main Street Lincoln volunteers.
The Y is helping with children's activities, and the Christmas tree for the courthouse lawn was donated by Angel Valley Tree Farm.
Rohlfs said each of these folks is greatly appreciated, and without them the open house weekend and other upcoming events would not be possible.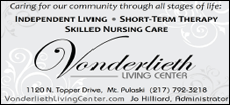 Friday evening, Santa is set to arrive between 5 and 5:30. He'll visit with those who come for the tree lighting, and more than likely he will have a few "Ho-ho-ho's" for area children.
At 5:30 the downtown tree will be lit, with many of the downtown stores turning on their window display lights at the same time.
For those who make the trip downtown, they are in for a real treat, as local merchants are very well known for their lovely window displays, and this year some of them will even feature live characters.
Because Santa loves Lincoln so much, he's planning on coming back to town Saturday morning to spend some quality time with local children.
The Saturday event with Santa will be at the Main Street Lincoln office and will feature children's activities, a visit to Santa's hut and a story read by Santa, along with some tasty treats.
This year, the holiday season is being spread out, with something special going on in various businesses each weekend right up to Christmas Eve.
This weekend, while all the downtown businesses will be open and anxious to see shoppers come, two in particular will be in the Main Street spotlight.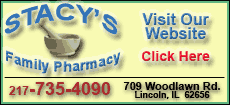 On Saturday the first weekly drawing for downtown prizes will take place at National Rent to Own.
Many folks are still getting used to the longtime Lincoln business being under a new name, but step inside the store, and shoppers will see that very little has changed.
The store, which has been managed for nearly the entirety of its history in Lincoln by Lincolnite Roger Matson, has seen name changes before.
When it was first opened by Henry Baird of Springfield, the store's name was Whippoorwill. Under that name, the main offering from the business was electronics such as televisions, on a rent-to-own basis.
Soon, the business would start expanding and would find a new home, leaving the Woodlawn Road area for a spot on Broadway Street. With a new home would come a new name, Action Rentals and Sales.
As the business grew, the need for greater showroom space grew as well. This is what eventually brought the store to the corner of Kickapoo and Broadway.
Step inside this weekend and take a look at everything this hometown business has to offer. There is a wide variety of furnishings, from living room or family room pieces to dining room sets and fabulous bedroom sets.
The store also offers household accessories such as lamps, as well as televisions, computers, appliances and even cameras.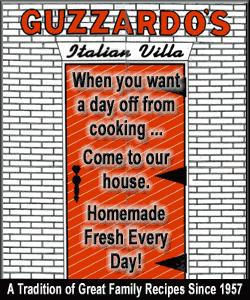 Rohlfs commented on National Rent to Own, saying it was a very important part of the community and offered a vital resource for shoppers.
"National Rent to Own offers shoppers options that many of them may need," she said. "Of course anything can be purchased outright, but for someone who's maybe only going to be in town for a while, furnishings can be rented, so they don't have to buy, and when they leave town, they don't have to move it. When we're looking at trying to bring people to Lincoln, even for a short time, this is a very attractive option for them."
In addition, if the perfect item is just a little beyond the budget but still on your have-to- have list, be sure to talk to Matson about the rent-to-own options he has to offer.
Be sure to stop in at National Rent to Own this weekend and say hello to Roger and his staff, and enter for the first weekend drawing.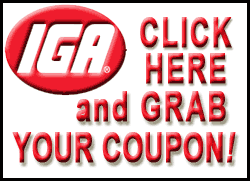 Oh, and by the way, the theme for the National Rent to Own window is "The 12 Days of Christmas." How fitting is that for a downtown store, to choose a song that includes the words "my true love gave to me"?
On Sunday the Main Street spotlight will move to Hallie's on the downtown square. Hallie's will once again this year host a spaghetti dinner fundraiser, with proceeds going to Main Street Lincoln.
Rohlfs said the fundraiser is a very important source of revenue for the annual Christmas events. Funds raised will go toward purchasing more decorations for the downtown square.
"We try to add new wreaths each year, and this is the money that makes that possible," she said.
Rohlfs added that this money also helps with various needs that come up, like lights that don't work and have to be replaced.
Brian Huffman and his wife, Cheri, opened Hallie's in 2002. Huffman is the fourth generation of his family to run an eatery in Lincoln and the fourth generation to serve up an exclusive, well-kept secret recipe for schnitzel.
The original schnitzel recipe was developed by Blossom Huffman back in the 1940s when she owned The Mill on Route 66.
While the schnitzel is the mainstay of the restaurant, the menu includes a wide variety of nicely prepared dishes, including burgers, chicken, a variety of horseshoe and pony shoe sandwiches, and much more.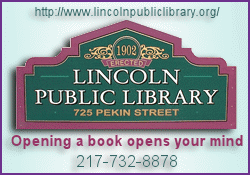 In addition, the restaurant is filled with interesting items to cast the eye upon. Being a fan of movies of all types, Huffman has decorated the interior with a variety of vintage movie posters. Also having a love for music, he has added to the décor a vast collection of vinyl records. With today's iPods, MP3 and CDs, taking a youngster to a restaurant filled with vinyl could be a wonderful opportunity for parents and grandparents to share with the younger generation what their more youthful years might have been like.
Hallie's window theme this year is the same as the townwide theme for Sunday: "Holly Jolly Christmas."
Rohlfs said diners can expect to be waited on by some very special "holly jolly" elves this year, as Main Street Lincoln volunteers will be on hand to wait tables and, of course, do a little visiting with friends and neighbors.
Rohlfs spoke briefly about the restaurant, saying: "We are so fortunate to have such a historical restaurant in our downtown area. It is the kind of place that can really bring back memories. Plus, it is a family-owned business, and that is very important."
In addition to National Rent to Own and Hallie's, many of the downtown businesses will be open Friday evening, Saturday and Sunday for the open house weekend.
On a daily basis, it is easy to see citizens of Lincoln and Logan County reaching out and offering support to their friends and neighbors. This area is possibly one of the most supportive and charitable one could ever hope to find.
As the holiday season arrives, it is hoped that everyone will remember that the business owners in Lincoln and Logan County, and their staff, are your friends, your family and your neighbors. They depend on your patronage each year to keep their businesses going.
[By NILA SMITH]