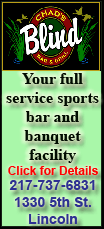 You never know how opening nights are going to pan out, but this was both entertaining and illuminating. It was illuminated by Leonard's ubiquitous presence. He had six ferocious blocked shots and worked his spots in the post as hard as I have seen him.

Illini freshman Abrams impressed Greg and me along press row in a number of ways. First, he led all players in rebounds at the half. In fact, Abrams led the Illini in caroms with seven, to go along with two steals and eight points -- not bad for a debut.

If my math and stats are correct, I had the Illini with only three second-half turnovers and only 12 for the game, which isn't bad when you consider how many players Illinois is using and how many different combinations hit the floor. The Illini held the Ramblers to just 35 percent shooting from the field while hitting for 48 percent themselves.

Leonard, Brandon Paul and Tyler Griffey led the way with 15, 14 and 10 points respectively. Walt Gibler led Loyola and was their only player in double figures, with 19.

Next up for Illinois is a Monday nighter (tonight) versus Southern Illinois-Edwardsville that tips at 7:30.

[By JEFF MAYFIELD]

Respond to the writer at jmayfield@ctitech.com.