Park district notes
From Roy Logan, program coordinator

Send a link to a friend
[November 08, 2011] Pride of the Prairie -- The Lincoln Park District is presenting the 17th annual Pride of the Prairie Folk Art and Craft Show on Saturday, Nov. 26, from 8 a.m. to 3 p.m. This event brings together a collection of the area's finest artisans and craftsmen. Exhibitors are selected for the quality and design of their work. This sale is a great opportunity to start your Christmas shopping.
Shop the Galleria
The park district has arranged for a chartered motor coach for a trip to shop the Galleria Mall in St. Louis on Friday, Dec. 2. The group will leave from the park district location on Primm Road at 8 a.m. There will be a brief "pit stop" on the drive down. Plans are to arrive at the Galleria around 10 a.m., leave St. Louis around 6 p.m. and be back in Lincoln before 9 p.m. Feel free to bring snacks, magazines or your iPod. No meals will be provided. The bus line asks that no dairy products be brought for consumption on the trip. Seats are available to the first 55 registrants, and the cost is $35 per person. Register at the park district front office.
Treats with Santa
Moms and dads, bring your children to the Lincoln Park District on Saturday, Dec. 3, from 9 to 11:30 a.m. to meet Santa. There will be milk and cookies and a coloring project for the kids while they wait.
CITV 5 will be there to tape the interaction and will air it on local cable throughout the month of December. It will also be available on streaming video at www.citv5.com after it has been edited and posted.
Holiday drop and shop
Are you trying to get the holiday shopping done without your little "helpers"? The park district has the perfect answer for you. On the second Sunday of December, drop your little ones off at the park district on Primm Road. The fun will begin at 1 p.m. and wrap up at 5:30. There will be games, coloring, activities out on the courts and just a lot of fun. Snacks will be provided. All children attending must be potty-trained.
Ages: 4 and up
Date: Dec. 11
Time: 1-5:30 p.m.
Fee: $25, $33, additional sibling $12.50
Location: Administration building and Sports Center courts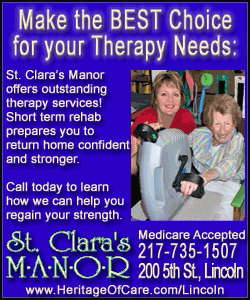 Gingerbread house
Have you ever made a traditional gingerbread house? The park district will supply the materials and each young person will be their own designer. This edible treat can be saved if you want. Wear something old or throw on an apron, as food coloring will be used.
Ages: 8-18
Date: Dec. 10
Time: 9:30 a.m.
Fee: $15, $20
Location: Craft room at administration building
Letters to Santa
Come color a picture or two, enjoy some milk and cookies, and write your Christmas wish list to Santa. The park district will make sure your list gets to the North Pole in plenty of time for jolly ol' Saint Nick.
Ages: 3 and up
Date: Dec. 10
Time: 1 p.m.
Fee: $2, $3
Location: Craft room at administration building
[Text from file received from Roy Logan, Lincoln Park District]