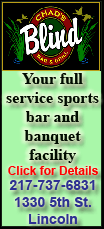 When Thanksgiving week rolls around, those and other things come to mind. Of course, it also means one other thing in this neck of the woods -- high school basketball is back.
Tonight begins the 99th season of Lincoln High School basketball as the Railers take on Cahokia on the first evening of the Eaton Electrical Round Robin Tournament at Roy S. Anderson Gymnasium. It also means I've somehow convinced the powers that be here at LDN to provide me the forum to give you my thoughts on the Railers throughout the season.
Normally, I get focused on basketball about a week before the season starts. However, this season I've had a head start, thanks to our daughter Carrie. Our sixth-grader is on the Lincoln Junior High seventh-grade team, a squad that is seeded No. 1 in their regional with a record of 16-3. The Lady Trojans are playing a regional semifinal tonight at home against Argenta-Oreana. OK, so I'm bragging about her being on the team and their success. As a dad, it's in the job description. Now, let's get back to the Railers.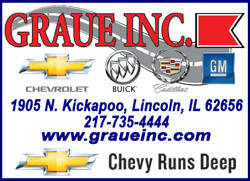 What will this season's squad do to follow up last year's finish, a finish that occurred much earlier than LCHS fans had hoped? Yes, it is still hard to believe the season-ending loss to Morton at home during the regional. Finishing 25-6 should never be a disappointment, yet the way it happened and at home, left Railer fans with an empty feeling for quite a while.
When the season ended, it also ended the stellar careers of three Railers whose names litter the LCHS record books. Jordan Nelson, Nathaniel Smith and Brant Coyne all stepped off the high school court that night for the last time, but as life forces us to do, they have moved on to the next portion of their academic and athletic careers. So, the question facing Railer coach Neil Alexander is how to replace all that those three did for, and meant to, the team.
The seniors who graduated this past spring were part of the 12th-best class in school history, at least in terms of wins (95-32). Coach Alexander will be looking to find combinations that will replace 70 percent of last season's scoring, 66 percent of the team's 3-pointers and over 76 percent of the free throws attempted. Nelson, Smith and Coyne took with them over 3,200 career points and 458 made 3s in 301 career games.
However, great players have left this program before, and the leadership of the coaching staff has made sure any decline has been short-lived, if any at all. Sometime this season, Alexander should pass 650 career wins (641 currently) and could reach 500 wins at LCHS (482). To do that, he will count on the experience of those returning to the squad.
The familiar faces Railer Nation will see out there include returning starters Jordan Gesner (4.7 ppg, 2.3 rpg) and Austin Kirby (4.1, 1.8). Others who saw action in most games last year and will be asked to contribute more this season will be Christian Van Hook (6.0, 3.3) and Jake Olson (0.9, 0.6). From there, it will be a lesson in growing up fast on the varsity court. The remainder of the roster is comprised of senior Matt Hays; juniors Will Podbelsek, Dane Eimer, Tommy Harris and Cody Heidbreder; sophomores Max Cook, Joey Olden, Tyler Horchem, Daniel Hemenway, Edward Bowlby and Austin Krusz; and rounding out the roster, freshman Gavin Block.
We will certainly get an early idea of how this teams stacks up, thanks to the competition in this year's Eaton Electrical Tournament. This five-game-in-a-week early-season dive into the schedule is intended to test the Railers, not give an easy 5-0 start to the year. New to the dance this season is Seton Academy from South Holland. It was just a few years ago they were hoisting a state championship. Also new to the schedule later in the year are visits from Chillicothe IVC and Mahomet-Seymour. Of course, what would a Railer season be without the annual grind of the Central State Eight conference.
As I begin my 11th year doing play-by-play for the Railers, there is one certainty -- Railer teams will always put forth effort. This year may be one of those years where every ounce of effort must be left on the floor for each and every game. How will this season end? It is certainly way too early to tell. However, when the following question is answered, it will go a long way in determining how the season plays out. Will the players who were asked to fill roles the past couple of seasons be able to step up and be "the guys" this year? Only time will tell, and the time starts ticking tonight at 7:30 at Roy S. Anderson Gymnasium.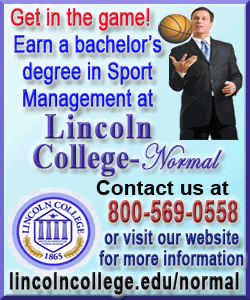 Another area I hope to follow through on this season is keeping up with the collegiate careers of Jordan Nelson, Nathaniel Smith and Ben Brackney. Of course, if any of the readers out there have the names of other Railer alumni you would like to see followed here, please contact me through Lincoln Daily News, and I will certainly try to get the information for you.
Both Smith and Nelson recorded their first collegiate double-figure games on Saturday with 10 points each. So far, their seasons look like this:
Smith (Loras College 1-2) -- 4.0 ppg, 4.0 rpg in three games.

Nelson (Evansville 2-1) -- 7.5 ppg, 2 rpg in two games.

Brackney (Bucknell 1-2) -- 2.7 ppg, 2.3 rpg in three games.
This season, I begin my second decade of doing Railer games on WLCN radio. I can't convey what an honor it is to do the games for you, the Railer Nation. It is unbelievable how fast time does fly. However, it is with sadness that I tell you that after looking to my left for the last nine of those years, my broadcast partner, Tom Larey, will not be there for every game. Tom has taken a job in the Chicago area and, for obvious distance reasons, will not be a regular part of the broadcast team this season.
Tom and I have traveled many miles together and, with all of the discussions on life we have had, I consider him a true friend. A longtime basketball official, Tom showed me a different way to watch a basketball game, taught me something new every night and always had a passion for the Railers that some may have questioned. I can't quantify how many times he would call me during the week to tell me about ways he thought the Railers could pull off an upset or try a new style. During the season, he was definitely thinking Railer basketball.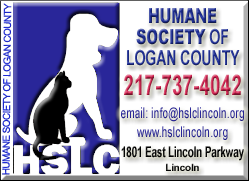 We had our funny moments as well, whether it was ending up in Iowa trying to find the gym in Moline or having the AD in Chatham ask us to move our radio station sign that Tom put up. The sign covered up certain letters in the Chatham nickname, leaving a word showing that he did not want in view. I will miss him as a friend and broadcast partner and hope he, and you, understand how much I say by simply saying, "Tom, thank you for nine great years."
It is certainly a new season in many aspects, and former Railer great Josh Komnick and I look forward to being there for you for each and every game. One thing I have learned in the 320 games that I have called for the Railers, the ride is never boring and the train is pulling out of the station tonight. Where will it end up? Who knows? In the end, that's part of the fun.
[by JEFF BENJAMIN]