Info Station open house, Lutheran scholarship, blood drives, Humane Society board elections and Christmas in the Chapel make Close Up
By Mike Fak

Send a link to a friend


[November 29, 2011] A holiday open house at the Information Station is coming up on Friday, Dec. 2, from 2 to 5 p.m.
Stop in and enjoy some holiday treats and meet the newest faces at the Information Station and the board of directors for the Abraham Lincoln Tourism Bureau of Logan County. Snacks will be provided for guests.
---

The alumni of Beta Sigma Psi, the national fraternity for Lutheran men, are pleased to offer the 24th annual Beta Sigma Psi Scholarship for the fall of 2012.
This $1,000 scholarship award will be given to a confirmed Lutheran freshman male beginning his college studies at the University of Illinois, Urbana-Champaign campus, in the fall of 2012.
Beta Sigma Psi was founded in 1925 at the University of Illinois as a fraternity dedicated to helping Lutheran college men grow spiritually, scholastically and socially. The alumni members of this fraternity offer this scholarship to provide assistance to other young men attending the University of Illinois. The recipient will be under no obligation to become a member of Beta Sigma Psi, but he will receive information about the chapter. The due date to apply for the scholarship is Jan. 31.
For more information or to request a scholarship application, email the scholarship director, Alexander Johnson, at BSP_Scholarship@yahoo.com, or visit Beta Sigma Psi's website at www.alpha.betasigmapsi.org.
---

To help ensure an adequate blood supply for the region, the Central Illinois Community Blood Center is offering opportunities to donate blood in Lincoln.
Monday, Dec. 5 -- Lincoln Masonic Center, 2022 N. Kickapoo; noon-6 p.m.

Thursday, Dec. 8 -- Lincoln College Student Center, 900 N. Ottawa; 10:30 a.m.-3:30 p.m.
For your convenience, please call toll-free, 1-866-GIVE-BLD, ext. 118, to sign up, or schedule an appointment online at www.cicbc.org. Walk-ins are also welcome and truly appreciated. There will be a holiday gift, compliments of CICBC, for all donors who register to donate blood at this blood drive.
---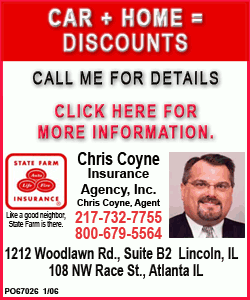 ---

The annual election for two seats on the board of directors of the Humane Society of Logan County will be on Jan. 18 at the general membership meeting. If you are interested in becoming a member of the board, you may send a letter of intent to Wanda Stevens, wstevens@ccaonline.com, after Dec. 1. The organization welcomes any member to submit a letter of intent for the board of directors.
---

Christmas in the Chapel begins Thursday, Dec. 1, at Lincoln Christian University. This year's play is "Christmas at Lincoln Valley High." For tickets, you can go to http://www.lincolnchristian.edu/
Documents/CIC2011TicketCard.pdf.
---