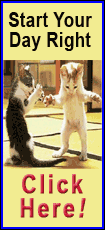 The train owned by the Burlington Northern Santa Fe Corp. hit the vehicle at about 8:45 p.m., Riverside police Lt. Chuck Griffitts said.
The driver, a man who authorities say was about 30 years old, was the only one in the car and was declared dead at the scene, Griffitts said. The man's name was not immediately released. No one from the train was hurt.
Police received a call from car's roadside assistance service saying the vehicle's air bags had deployed, and the driver was not responding to calls, Griffitts said. Several more calls came in to police reporting a loud crash.
A police helicopter spotted the car embedded in the front of the train about a half-mile east of the intersection where the crash occurred.
Officers reached the man on foot and pulled him out of the sedan before it burst into flames, but paramedics and firefighters later pronounced him dead at the scene, Griffitts said.
Police investigators were trying to determine why the car was in the crossing.