New Holland, Farm Credit and Pork Producers, LCHS College Night, Katherine Johnson, and history of Lincoln Lakes make Close Up
By Mike Fak

Send a link to a friend


[October 06, 2011] The New Holland Community Center Flea Market/Garage Sale and Fall Festival will be Oct. 29 from 8 a.m. to 1 p.m. Anyone interested in reserving a space can contact Suzie Aper, 217-445-2418, or Annie Coers, 217-737-5439.
---

Four giant grills on wheels are cooking 8,500 pork burgers at more than 50 grain elevator locations to cater complimentary lunches to farmers during the fall harvest. Farm Credit Services of Illinois and the Illinois Pork Producers Association are teaming up to provide free grilled pork burger meals during the seventh annual "Harvest Lunch Tour." The branch from Lincoln will serve at the following elevators this year:
Lincoln Land FS Elevator, Atterberry -- Thursday, Oct. 6, 11:30 a.m.-1 p.m.

East Lincoln Farmers Grain Co., Beason -- Thursday, Oct. 13, 11:30 a.m.-1 p.m.

Hartsburg Grain Co., Hartsburg -- Friday, Oct. 14, 11:30 a.m.-1 p.m.
---

The guidance department at Lincoln Community High School will host its annual College and Career Night on Thursday, Oct. 20, from 6 to 8 p.m. Representatives from dozens of colleges and trade schools will be on hand to answer questions and provide students and parents with the information needed to make an informed decision about what to do when high school is over. A special financial aid presentation for juniors and seniors and their parents will begin at 6 p.m. in the LCHS auditorium. The college fair will be in the LCHS cafeteria, beginning at 6:30 p.m.
College Night is presented as a special service to the students each year. All upperclassmen and their parents are welcome and encouraged to attend.
---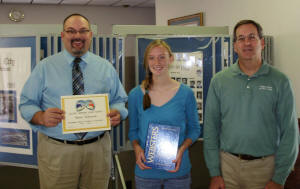 From left: Ed Jodlowski, Illini Central principal; Katherine Johnson; and Bob Werner, executive vice president of 1st State Bank of Mason City.

The 1st State Bank of Mason City and Illini Central High School are pleased to present Katherine Johnson with the September Student of the Month Award. For demonstrating outstanding character, Katherine receives a $50 savings bond from 1st State Bank and a reference work appropriate to her course of study from the Illini Central High School faculty.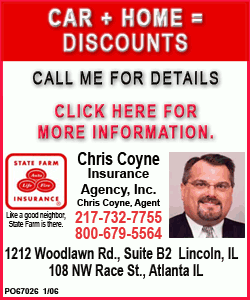 Katherine is the daughter of Tom and Pam Johnson. Her classes this year are AP Calculus, AP Physics, AP Literature and Composition, Advanced Biology, Spanish 4, Band, and Ceramics and Sculpture.
In addition, Kate keeps busy with a number of extracurricular activities. She is a member of National Honor Society, Worldwide Youth in Science and Engineering, Science Club, Scholastic Bowl, Pep Band and works on PawPrint, the school newspaper, which she also co-edited as a junior. Katherine is on the cross country and track teams as well.
Outside of school, Katherine is involved with her church youth group and the Peaceful Valley 4-H. She is also an organist at her church.
Katherine plans to attend the University of Illinois, where she will major in animal science in preparation for veterinary medicine.
---

Roger Matson, JoAnne Marlin and Bill Donath are working on a new Logan County book that will focus on the history of Lincoln Lakes.
Much of the book is compiled, but to finish it up they would like to hear from other members of the community.
If you have a fond memory or an interesting story about time you have spent at Lincoln Lakes, please send your submission to Roger Matson at actionrental1@yahoo.com.
To keep the book moving along, Matson has set a submission deadline of Oct. 31.
---