Today's highlight in history:
On Oct. 7, 2001, the current war in Afghanistan started as the United States and Britain launched air attacks against military targets and Osama bin Laden's training camps in the wake of the Sept. 11 attacks. Speaking from the White House, President George W. Bush said, "We will not waver, we will not tire."
On this date:
In 1777, the second Battle of Saratoga began during the American Revolution. (British forces under Gen. John Burgoyne surrendered ten days later.)
In 1858, the fifth debate between Illinois senatorial candidates Abraham Lincoln and Stephen Douglas took place in Galesburg.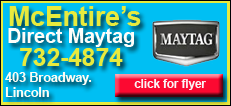 In 1910, a major wildfire devastated the northern Minnesota towns of Spooner and Baudette, charring at least 300,000 acres. Some 40 people are believed to have died.
In 1949, the Republic of East Germany was formed.
In 1960, Democratic presidential candidate John F. Kennedy and Republican opponent Richard M. Nixon held their second televised debate, in Washington, D.C.
In 1981, Egypt's parliament named Vice President Hosni Mubarak (HAHS'-nee moo-BAH'-rahk) to succeed the assassinated Anwar Sadat.
In 1985, Palestinian gunmen hijacked the Italian cruise ship Achille Lauro (ah-KEE'-leh LOW'-roh) in the Mediterranean. (The hijackers, who killed Jewish American tourist Leon Klinghoffer, surrendered two days after taking over the ship.)
In 1991, University of Oklahoma law professor Anita Hill publicly accused Supreme Court nominee Clarence Thomas of making sexually inappropriate comments when she worked for him; Thomas denied Hill's allegations.
In 1996, Fox News Channel made its debut.
In 1998, Matthew Shepard, a gay college student at the University of Wyoming, was beaten, robbed and left tied to a wooden fencepost outside of Laramie; he died five days later. (Russell Henderson and Aaron McKinney are serving life sentences for Shepard's murder.)