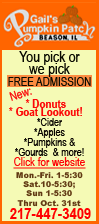 State wildlife officials across the country have for several decades been rolling out roadside robot decoys to nab unscrupulous hunters, and the effort has paid off with hundreds of citations.
A robotic deer decoy used in Georgia had to be replaced in 2006 after being shot more than 1,000 times.
"It's a time of year when some Utahns can't resist the sight of a big buck on the side of the road -- even if shooting hours are over for the day," said Amy Canning, a spokeswoman for the Utah Division of Wildlife Resources.
Utah's five DWR regions now each have their own robot decoys, which are deployed in various spots along roadways where deer often gather or where poachers have been a problem in the past.
Hunting is not allowed at night in Utah, starting a half-hour after sunset until a half-hour before sunrise, but authorities say the sight of a big deer on the side of a road can just be too tempting for some.
Once a plan is in place, authorities put the mechanical deer near a road where it can be seen by passing cars. Then they hide nearby and keep watch, waiting for someone to take the bait, occasionally using the remote control to move the decoy's head and tail "to make it look as realistic as possible," said Utah DWR Sgt. Matt Briggs.
"We try to mimic some of the movement that takes place in the field," he said.
Hunters will generally use headlights to illuminate the deer, then take their shot. It doesn't matter if it's a bow and arrow or a rifle -- if it's at night, it's illegal without special permission, Briggs said.
The shooters in Utah are issued a Class B misdemeanor citation, punishable by up to six months in jail and up to a $1,000 fine. Authorities also seize their weapons.