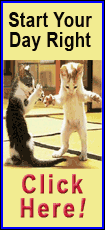 In second place is Jaroslaw Kaczynski's conservative Law and Justice, with 29.9 percent.
Tusk's preferred coalition partner, the Polish People's Party, has 8.4 percent. A new left-wing party, Palikot's Movement, has 10 percent.
The only other group with representation in the new parliament is the Democratic Left Alliance, with 8.3 percent.
The State Electoral Commission published the figures Monday, the day after elections.
___
THIS IS A BREAKING NEWS UPDATE.
AP's earlier story is below.
___
WARSAW, Poland (AP) -- Polish Prime Minister Donald Tusk turned his attention to building a new government Monday after initial election results showed that his centrist, pro-European coalition government maintained a majority in parliament.
Tusk's predicted victory represents the first time in Poland's post-communist history that a ruling party has won a second consecutive term -- a sign of stability in this central European nation of 38 million. Analysts also said it means the government will continue with the broad thrust of its economic policies.
Markets reacted positively to the news with Poland's main stock market, the WIG-20, up 1.7 percent and outperforming its European counterparts.
"Overall, the outcome of the elections is good news for investors as pro-market policies are likely to be continued and there should be a solid parliamentary majority for fiscal reforms," Danske Bank said.
Full official results are not expected until Tuesday, but a count by electoral authorities from 93 percent of constituencies gave a comfortable lead to Civic Platform, a pro-European party that has presided over four years of growth at a time when much of the continent has been reeling from a financial crisis and rising levels of debt.
The partial figures from the State Electoral Commission early Monday showed 39 percent support for Civic Platform, well ahead of its main rival, the conservative Law and Justice party of former prime minister Jaroslaw Kaczynski, which had 30 percent support. The twin brother of President Lech Kaczynski, who died in a plane crash last year, acknowledged his defeat at his party's election night gathering.
That count shows that Tusk's pro-market Civic Platform and its coalition partner, the Polish People's Party, would hold a five-vote majority in the 460-member lower house of parliament if they continue their partnership. The Polish People's Party -- a socially conservative group that represents farmers' interests -- had 8.6 percent support in partial official results. Jointly the two parties could have 236 seats in the 460-member lower house, or Sejm.